About Our Firm
Shaw Cowart LLP is a powerful firm with a statewide and nationwide reputation in personal injury and civil litigation. Our trial lawyers consistently achieve positive results in complex and high-value cases.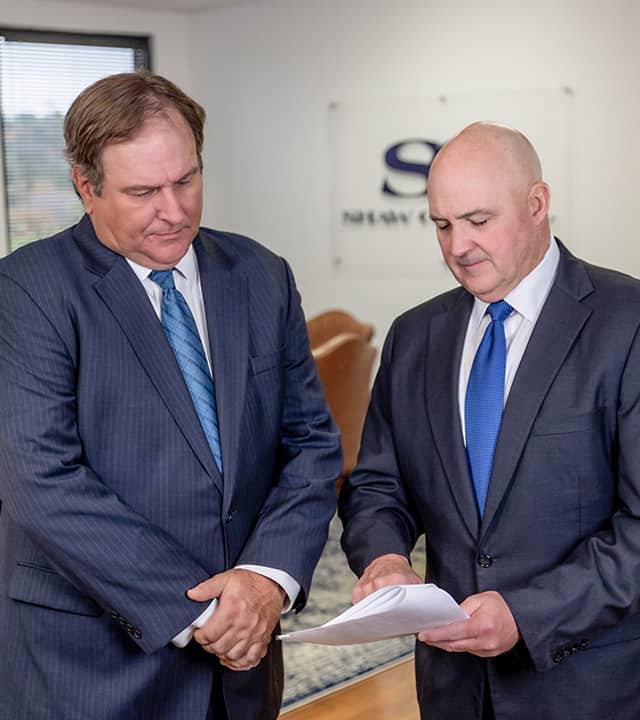 The Austin trial lawyers of Shaw Cowart LLP are seasoned litigators known for the positive outcomes we consistently achieve for our clients in court.
Founding partners Ethan Shaw and John Cowart have handled hundreds of trials in courts across the country, serving as both plaintiff and defense counsel. While we take on the big cases, handling complex litigation, our reputation is built largely on developing and maintaining close and personal relationships with our clients, something larger firms do not offer.
Our proven track record of success for our clients speaks for itself. Should you wish, you can talk to some of our clients and hear about their experiences with us. We recognize that you need to know who you are dealing with and what to expect before making a commitment.
Individuals and businesses sometimes gravitate to larger firms, believing they can get better results. We have stayed small for a reason. We are a powerful law firm and we get the results you would expect from a larger firm, with the benefit of the personal attention that only a small firm can offer.
Client relationships are more close and personal. We will work closely with you and fight for you. We get to know you so that we understand your needs and goals, and how your legal issues affect you in real-life terms. This is one reason that we have a reputation for getting favorable results for our clients.
Easier access to attorneys than in larger firms. Our litigators are directly accessible and responsive to you. You will not be passed off to a paralegal as you would with a larger firm. With pending legal matters, we know that nobody wants to be left in the dark or feel that they cannot make contact. We strive to keep you informed as your matter progresses and we are always willing to answer your questions.
Legal Services And Fees Tailored To Your Needs
We understand that each client has unique needs. We provide legal services from handling small matters to major litigation for clients ranging from individuals to small businesses and major corporations. Your needs may be fairly simple or very complex. We tailor our services to achieve your goals.
Service tailored to your needs. For our business clients, we provide consulting to ensure that your company is in compliance with applicable regulations, minimizing your risk of liability and disputes. And we can help you if you are already at the other end of the spectrum, facing major litigation. Our attorneys are both skilled negotiators and fierce litigators, who will aggressively protect your interest.
Lower overhead than larger firms. Our fee structures and costs reflect the fact that we are a boutique law firm. We are able to handle the same types of cases and legal matters as large firms with less overhead. And we pass that benefit along to you.
No recovery, no fee, for personal injury and wrongful death plaintiffs. Of course, we represent personal injury victims and families seeking wrongful death compensation on a contingent fee basis, meaning that we only charge a fee if we win money for you. Our Austin personal injury attorneys will not ask you for money up-front, and you do not incur attorneys' fees unless we recover compensation for you. Our fee is a percentage of your recovery.
Shaw Cowart LLP has a proven history of achieving positive results for our clients, representing both plaintiffs and defendants. Representing plaintiffs, we have recovered millions of dollars for our clients.
Some examples of our successes include:
Insurance bad faith. Shaw Cowart LLP represented Charles Tate in claims against a Workers' Compensation insurance provider, Discovery Property & Casualty Company and JI Specialty Services Inc., that acted in bad faith by denying certain benefits to Mr. Tate. A confidential settlement was reached.
Medical malpractice/birth injury. Shaw Cowart LLP represented plaintiffs Sarah Ann and Christopher Lee Wixted in a medical malpractice action against Margaret M. Thompson, M.D. and Columbia/St. David's Health Care System L.P., for malpractice in the delivery of their child who was diagnosed with cerebral palsy. A confidential settlement was reached.
Patent infringement. Attorney Ethan Shaw represented plaintiff Mooneyham Lures, Inc., an artificial bait manufacturer, in patent infringement litigations against Ebsco Industries, Inc. and Yum Baits Company, in the United States District Court for the Eastern District of Texas. A confidential settlement was reached.
Consumer fraud. Ethan Shaw acted as lead counsel in a consumer fraud mass civil action in the District Court of Jefferson County, Texas, 136th Judicial District. A multi-million-dollar settlement was reached in favor of the plaintiffs.
Defective drug/brain injury. Attorney Ethan Shaw acted as lead counsel, representing plaintiffs Elizabeth, Eric and Michael Anderson in defective product litigation against Sandoz Pharmaceutical Corporation. Ms. Anderson suffered a permanent brain injury as a result of using the Sandoz product Parlodel (bromocriptine mesylate). A confidential settlement agreement was reached.
Insurance misrepresentation. Ethan Shaw acted as lead counsel for a class of policyholders in a class action against Southwestern Life Insurance Company involving vanishing premium misrepresentation, in the United States District Court for the Eastern District of Texas, Beaumont Division. A confidential class settlement was reached.
Wrongful death. Ethan Shaw acted as lead counsel representing Helmut F. Weissmann and Denise Weissmann in wrongful death litigation against Atchison, Topeka & Santa Fe Railway Company, in the United States District Court, Southern District of Texas. The death was the result of a railroad crossing accident. A confidential settlement was reached.
To learn more, view examples of our notable case results. Each case is unique. We cannot and do not guarantee the success of any case we may handle on behalf of a client. Your ability to prevail in any claim is entirely dependent on the individual facts of your claim.
At Shaw Cowart LLP we are small in number but large on experience. Our litigators have handled thousands of lawsuits and hundreds of trials. Our accident lawyers in Austin represent a diverse range of clients in many forums throughout the U.S. including state and federal trial and appellate courts, and in front of state and federal administrative agencies and arbitration tribunals.
Our seasoned litigators have a passion for justice and aggressively represent our clients' interests. Our attorneys are known for their ethical approach and consistent success in the courtroom. Learn more about our attorneys:
Shaw Cowart LLP represents individuals, families, plaintiff's groups, and businesses. We represent local, "mom and pop" operations with the same thoroughness and tenacity that we deliver when representing large corporations. Our skill, dedication and track record of success have earned the respect and trust of private and publicly traded companies.
Apogee Telecom, Inc.
Austin 24-Seven LLC
Austin Foam Plastics
Bead Farm
Broussard Farms
Broussard Oil & Gas Company
BryFi, LLC
Celling BioScience
Celling International
Chaparral Moving
ChosenCorps LLC
Connor Plumbing
Crown Pipe
Digital Workforce Academy
Emerson Climate Technology
Emerson Electric
Emerson Network
Emerson Numatics
Emerson Process Management
Emerson Ridgetool Company
Emerson Therm-O-Disc
Enterprise Counsel Group
Fischer Controls
Greater Austin Merchant Association
GuardTech
Guseman Construction
Healthcare2U Wellness
Highway Toll Administration, LLC
Hire10, LLC d/b/a Hire10
Hi-Tech Restoration, Inc.
International Paper
JPG Tehnologies, Inc. (MediMobile)
Keystone Restoration
Kinsel Motors
Liebert Corporation
Lighthouse Solar
MB2 Dental
MOC Central LLC
Provoq, Inc.
Sage Telecom Communications
Saltwater Disposal Systems LLC
Southwest Stainless
Sozo Global, Inc.
SpineSmith Holdings, LLC
Starwood
Sunbelt Supply LLC
Sunset Logistics, Inc.
Technext Track Private, Ltd.
Technollo LLC
Texas Best Organics
Trinity Containers
Trinity Industries
Trinity Railcars
VertivCo
Waterworks Corral Creek LLC
White Rodgers
To learn more about Shaw Cowart LLP, our broad range of legal services, and how we can help you, please call 512-499-8900 or email us to schedule a confidential consultation.