Thousands of semi-trucks transport consumer goods and other items across the country on a daily basis. The large size and weight of these vehicles create a serious hazard for others that share the road with them. Many trucks weigh upwards of 80,000 pounds, compared to an average weight of 3,000 pounds for a car. This disparity can lead to disastrous consequences in the event of a truck accident. Often, injuries sustained in an 18-wheeler collision can be life-altering, and potentially fatal. In the event a loved one has been killed in a truck accident, reach out to our wrongful death attorneys in Austin.
When facing the burdens associated with mounting medical bills and lost wages as you recover, it is important to have an experienced truck accident attorney on your side who can make sure your rights are protected. This is the best way to ensure you and your family stay afloat financially as you deal with this difficult time in your lives.
Why Choose Our Austin Truck Accident Lawyers at Shaw Cowart?
Shaw Cowart's accident attorneys in Austin have been helping truck accident victims in the Austin, Texas area recover the compensation they deserve for nearly 30 years. We've seen firsthand the devastation these collisions can cause to the victims and their families, and we are committed to aggressively pursuing your case in order to maximize the value of your compensation.
You can learn about your legal rights and options by speaking with our experienced truck accident lawyers in person. Please call 512-499-8900 today to schedule a complimentary consultation. You can also fill out the form in our contact page, and our staff will help you set up your meeting! Our seasoned attorneys Ethan L. Shaw and John P. Cowart serve clients in the Austin, Texas area.
Austin Truck Accident Resources:
Common Austin Truck Accident Injuries
A fully loaded 18-wheeler can weigh as much as 80,000 pounds. In a collision with an average car weighing 4,000 pounds, the driver and passengers in the smaller vehicle often suffer serious or catastrophic injuries. Injuries in truck accidents include:
Back and neck injuries

Broken bones including limbs, ribs, hips, and pelvis

Internal injuries

Soft tissue damage including sprains, strains, torn ligaments, and bruises

Lacerations, including disfiguring facial lacerations
The types of injuries commonly suffered in truck accidents require serious medical treatment, surgeries, procedures, physical/occupational therapies, and medications. Some require long-term equipment and home healthcare. These life-altering injuries quickly become costly. Injury victims shouldn't be left holding the bag when a truck driver, defective truck part, or negligent trucking company causes a devastating truck accident.
Types of Truck Accidents in Austin
The booming freight and transportation industries in Texas provide goods and services for residents and many opportunities for employment. However, with large commercial trucks crowding the Texas roadways, accidents involving trucks are increasingly common and make up a disproportionate percentage of fatalities at 13% of nationwide traffic deaths despite comprising only 5% of registered vehicles. Common types of truck accidents in Texas include:
Rollovers: the tall, top-heavy design of unwieldy commercial trucks causes a high center of gravity and a greater propensity for tipping and rolling over during a swerve or tight turn.

Jackknife accidents: unique to large trucks pulling trailers, a jackknife accident occurs when a truck's skidding trailer swings around on its pivot into a shape like an unfolding jackknife. This can happen due to improper braking when the body of the truck slows down faster than the trailer it's pulling, or when making too fast a turn.

Fishtailing: When a truck driver makes a sudden swerve and then overcorrects, it may result in the trailer "fishtailing" rapidly back and forth, posing a sideswipe danger to vehicles in parallel lanes. In some cases, a fishtailing trailer ends in a jackknife accident or rollover.

T-Bone collision: Also called a side collision or angle collision, T-Bone accidents occur in intersections when one driver fails to stop at a traffic signal or stop sign and collides with the side of a crossing vehicle with the right of way. When an 18,000-pound commercial truck with far greater height than a passenger car has a T-bone accident with a passenger vehicle, the force of the impact has catastrophic and deadly consequences to the motorists in the smaller car.

Rear-end collisions: Trucks require greater stopping distances due to their immense sizes and weights. If a truck driver is speeding or distracted and fails to stop in time to avoid a collision with a stopped or slowed vehicle in front of them, the rear-end collision can cause grave injuries to those in the front vehicle.

Head-on collisions: these accidents occur when a truck driver veers out of their lane and into oncoming traffic. Truck drivers may leave their lanes due to distraction, falling asleep at the wheel, or intoxication. Tire blowouts also sometimes cause a truck to swerve out of its lane and into a head-on collision.

Wide-turn accidents: Because of the length of their trailers, commercial trucks make wide turns. Sometimes, accidents occur when a trucker veers left to make a wide right turn or veers right to make a wide left turn. Vehicles in parallel lanes may collide with a truck making a wide turn or become lodged under the trailer. Wide turn accidents may cause an approaching car to become trapped between the turning truck and guardrails or to run off the road.

Sideswipe accidents: Trucks have extended blind spots on both sides, but especially on the right. Sideswipe accidents sometimes occur when a truck makes an unsafe lane change, when a vehicle drives parallel to the truck in a blind spot, or when a truck driver fails to check their mirrors before changing lanes.
No matter how a truck accident occurs, the sheer size and weight of commercial trucks puts smaller, more vulnerable vehicles and their occupants at a serious disadvantage.
Causes of Austin Truck Accident Injuries
Even when motorists wear seatbelts, the power of an impact with a large commercial truck causes serious and even catastrophic injuries or fatalities. Smaller vehicles may lodge under the truck's trailer, causing the smaller car's roof to collapse resulting in crush injuries or decapitations to those inside the passenger vehicle.
In rear-end collisions, the force of a large, heavy truck on impact with a car's tail causes an immense jarring to passengers, causing whiplash and crush injuries.
Head-on collisions with trucks cause catastrophic injuries to drivers and passengers in smaller cars, particularly to those in the front seats.
Side-impact and sideswipe accidents may force drivers in other cars to skid off the road, into other vehicles, and into rollovers.
Multi-car pileups and chain reaction accidents sometimes result when a large truck crashes and blocks multiple lanes of oncoming traffic, resulting in devastating injuries and multiple impacts to those trapped between the truck and oncoming vehicles.
Compensation Available In An Austin Truck Accident Claim
Damages in a truck accident are extremely costly. You may have medical bills piling up at the same time that your injuries prevent your return to work at your usual capacity or at all. A successful truck accident claim could maximize the compensation for damages such as:
Medical expenses and future medical costs related to the truck accident injuries

Lost income

Diminished earning capacity if you've been left disabled from the accident

Pain and suffering

Non-economic damages that might apply in your case, like loss of limb, disfigurement, PTSD, and loss of pleasure in life

Wrongful death
Compensation in truck accident claims includes economic compensation for tangible expenses and non-economic damages for intangible damages like pain suffering and disfigurement. While monetary compensation may not erase the injury, it can open doors to the best medical care and relieve financial burdens on the family while you undergo medical procedures and recover from your injuries. 
What Makes Truck Accidents Different From Other Car Accidents?
The average fully-loaded commercial truck weighs around 18,000 pounds while standard private vehicles weigh an average of 4,000 pounds. Trucks have higher heights and greater lengths compared to passenger cars as well. The occupants of a smaller car are at a significant disadvantage in an accident, while the truck drivers are far less vulnerable to injuries. For this reason, truck drivers are held to different standards compared to other drivers. Regulations limit their driving hours, and many states have lower legal limits for blood alcohol levels and additional consequences for drunk truck drivers, including the loss of their commercial driver's license.
Truck accidents also present legal challenges to injury victims because multiple entities could bear liability in the accident depending on whether the driver is a direct employee of a trucking company or independent contractor. Other factors include what may have caused or contributed to the accident such as a defective truck tire, a lax truck maintenance company, or a freight-loading company that failed to properly balance the trailer's load.
It often takes a diligent investigation into the truck accident to identify the liable party and document evidence of liability.
How to Prove Negligence in an Austin Truck Accident Case
No one should take on a truck accident claim alone. Not only do trucking companies have powerful insurance companies and attorneys, but truck accidents require thorough investigations to prove negligence. An investigation could include the following:
Viewing photos of the accident scene after the accident

Reviewing dash cam video or traffic camera footage of the accident

Collecting information from the truck's "black box"

Interviewing eyewitnesses to the accident

Consulting with accident reconstruction experts

Conducting forensic analysis of the truck to determine if defective parts or a lack of routine maintenance contributed to the accident
A skilled attorney conducts a complete investigation and carefully documents the evidence of negligence, to prove liability on the part of the at-fault party in the accident so injury victims have the most compelling case possible for compensation for their damages.
Truck Accidents in Austin Are A Complex Area of Law
Truck accident cases are often much more complicated than other types of motor vehicle accident claims. There are numerous state and federal trucking regulations that govern the operation of large commercial trucks, and these laws will significantly impact your claim. It's important to work with a truck accident lawyer who has intimate knowledge of all state and federal laws that apply to your case.
Proving liability in a truck accident claim is also much more complicated than in a car accident case. If you have been in a car accident, call our Austin car accident lawyers today. There are many parties that may potentially be liable for your injuries, including the:
Truck driver
Trucking company
Truck manufacturer
The driver of a third vehicle that caused the collision
In the event that a truck accident caused you serious injuries, reach out to our personal injury attorneys in Austin today.
In some cases, more than one of these parties may be liable for your injuries. Your attorney must be able to determine the appropriate parties to hold accountable in your truck accident claim. With decades of experience handling these complex cases, the truck accident lawyers at Shaw Cowart LLP have the background necessary to help you hold all negligent parties accountable for your damages.
Do You Have A Truck Accident Case In Austin?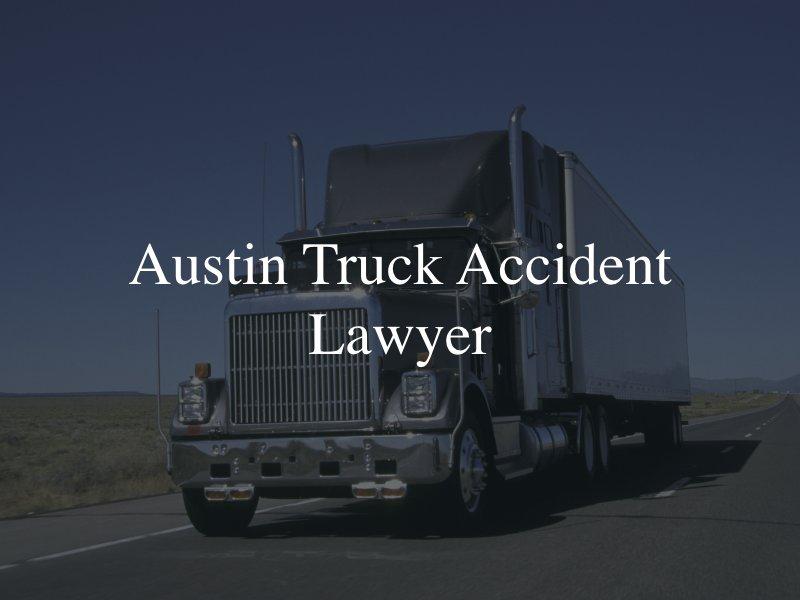 If you've been injured in an accident involving a commercial truck and were less than 50% at fault for the accident, you can recover compensation for damages. Texas has a modified comparative negligence system for insurance claims that allows injury victims to claim at least a portion of their damages. If you weren't at all to blame for the accident, your Austin truck accident attorney can investigate the accident and prove liability so you can claim full compensation for your damages. You have a valid truck accident claim even if you shared a percentage of the fault for the accident.
Determining liability in a truck accident requires demonstrating the following:
That the truck driver, trucking company, or truck manufacturer owed a duty of care to take reasonable measures to prevent injuries to others

That the at-fault party breached this duty of care by acting negligently or recklessly

That the negligent breach of duty directly caused your injury

That you've suffered significant damages due to the injury
In a comparative negligence state like Texas, if you're found to be 25% at fault for an accident and your damages amount to $100,000, you can still recover $75,000. In some cases, powerful trucking companies and their insurance providers attempt to use the comparative negligence system against accident victims by assigning them a greater portion of the blame in order to minimize a payout on their claims. An experienced truck accident attorney in Texas knows how to effectively counteract these tactics with evidence to maximize your recovery.
How To File An Austin Truck Accident Case
The modified comparative fault system for accident claims in Texas can be difficult to navigate successfully, especially against powerful trucking companies and their profit-prioritizing insurance companies. The first step in filing a successful claim is to seek experienced legal representation with an Austin truck accident attorney. Your attorney will do the following:
Investigate the accident and gather evidence to prove liability

Calculate your damages including an amount for pain and suffering

Draft a compelling, evidence-based demand letter and send a demand package to the appropriate insurance company

Negotiate from a position of strength with the insurance company to secure an ample settlement

File a lawsuit in court within the state's statute of limitations if the insurance company fails to offer an acceptable settlement amount

Argue aggressively in court to defend your rights and best interests to maximize your chances of a successful verdict and jury award for compensation.
The vast majority of truck accident claims are settled out of court, but your accident attorney from Shaw Cowart LLC is more than ready to represent your interests in court if it becomes necessary. Court cases take longer than a settlement, but jury awards are often higher than an amount from a settlement.
The Importance Of Federal Trucking Regulations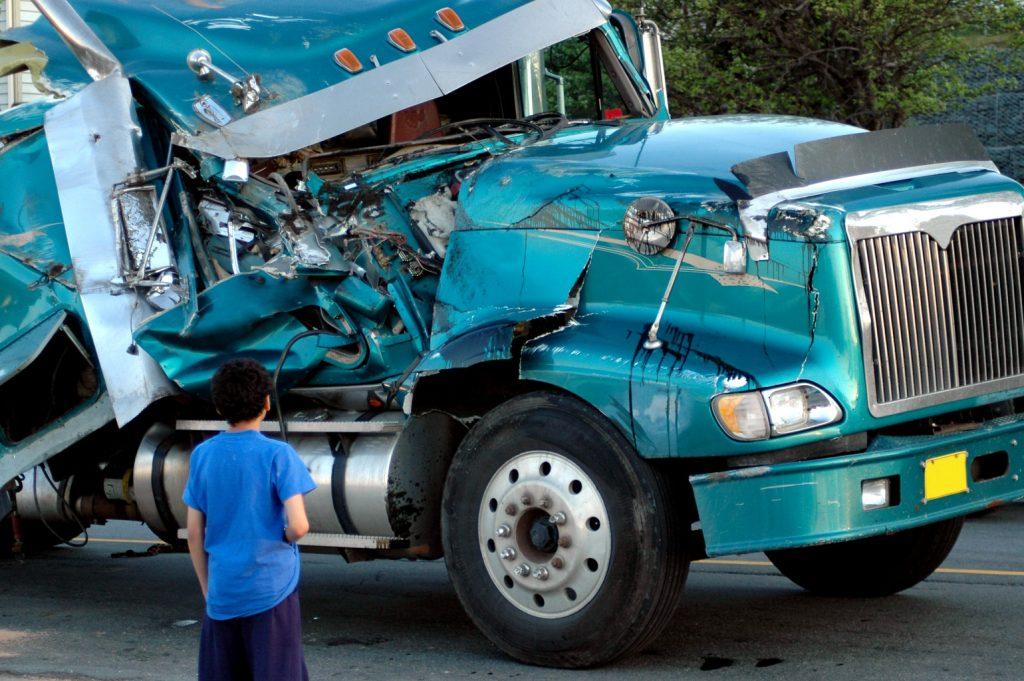 The federal government establishes regulations for the trucking industry to ensure the safety of truck drivers and other motorists on the road. These regulations are established by the Federal Motor Carrier Safety Administration (FMCSA), and they apply to all members of the trucking industry, including trucking companies, truck drivers, and manufacturers of trucks.
Truck drivers are required to:
Be at least 21 years of age and speak fluent English
Possess a valid commercial driver license (CDL)
Pass a physical exam every two years
Refrain from using drugs or alcohol while on duty, including any prescription drugs that affect their ability to safely operate a commercial vehicle
Trucking companies must:
Verify drivers' records and check their references before hiring
Review drivers' records every year
Conduct regular mechanical inspections and make repairs before allowing a truck to embark on a long trip
Maintain accurate records of all inspections and repairs to vehicles
Additionally, trucks are prohibited from carrying more than 20,000 pounds per axle or exceeding the maximum allowable gross vehicle weight (GVW) of 80,000 pounds.
Hours of Service Violations and Truck Accidents
Truck driver fatigue occurs when too many hours are spent behind the wheel, and it is one of the most common factors associated with truck accidents in Austin. To minimize this risk, the FMCSA has established rules that lay out strict limits on the hours that truck drivers are allowed to work:
Truck drivers may not drive more than 11 hours in a single day
The total duration of a driver's shift, including time, spent not behind the wheel, may not exceed 14 hours
Truck drivers are required to take at least 10 hours off between shifts
When trucking companies don't operate their vehicles 7 days a week, truck drivers cannot exceed a maximum of 60 hours on duty during a 7-day time period (60 hour/7-day rule)
When trucking companies operate their vehicles 7 days a week, drivers cannot exceed 70 hours on duty during an 8-day time period (70 hour/8-day rule)
Truck drivers must maintain an accurate log of time spent on duty and behind the wheel
When a driver is drowsy from exceeding the maximum allowable hours on the road or failing to obtain the minimum number of required rest hours, he or she is more likely to fall asleep at the wheel, drift into the next lane, cross over the center line or collide with another vehicle. Fatigue also impedes a truck driver's ability to accurately judge and respond to surrounding situations.
Unfortunately, it's common for trucking companies to push their drivers beyond these FMCSA hours of service regulations in the name of profit, and this negligence can be tragic for truck accident victims. Even in the absence of direct instruction to ignore the regulations, truckers may feel implicitly pressured to do so in order to meet unreasonable delivery deadlines
Collecting Evidence In An Austin Truck Driving Accident Case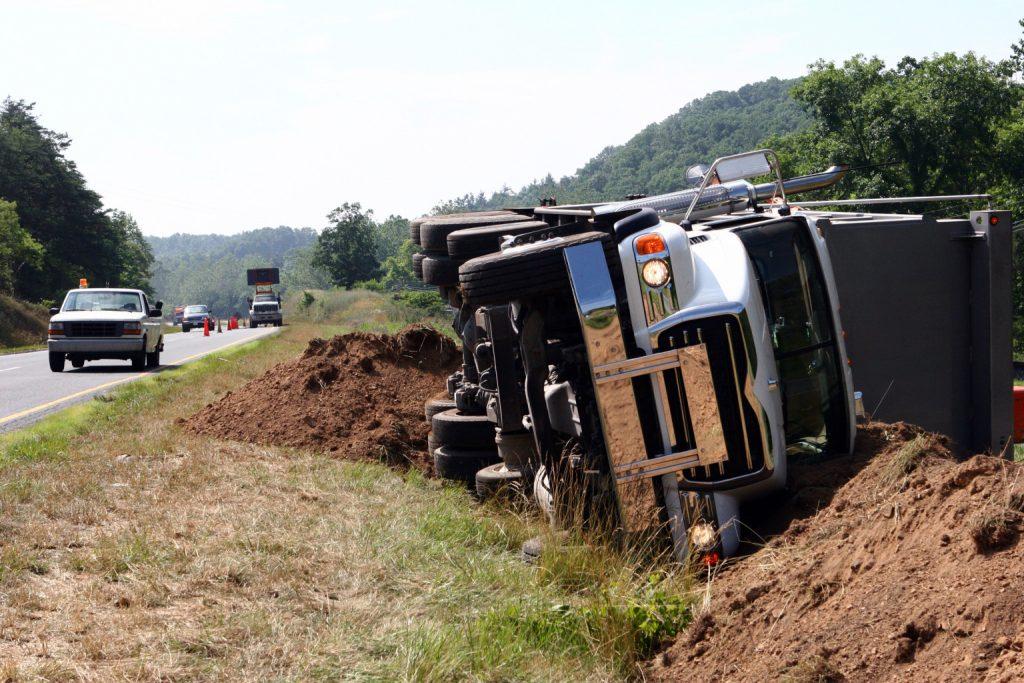 Our Austin truck accident attorneys rely on a wide range of forensic evidence to prove negligence when inadequate rest is a factor in a trucking accident. We evaluate truck driver logs to determine whether your injuries may have been the result of hours of service violations.
In situations where the truck driver's log book doesn't indicate any blatant hours of service violations, our attorneys will dig deeper in order to detect indirect evidence that these laws have been violated. This may include uncovering discrepancies between the log book and other important truck driver documents, including:
Fuel receipts
Toll tickets
Times on bills of lading and other load identification documents
Point-to-point mileage distance
Scale tickets
This in-depth investigation can often uncover evidence of hours of service violations that may not be noticed by less experienced attorneys.
What To Do After A Truck Accident In Austin?
The aftermath of a truck accident is chaotic and terrifying, but what you do in those early moments and days after the accident can help provide evidence for your case and help your physical and financial recovery. If you're seriously injured, you may be able to do little other than wait in place for help, but if you can use your phone or ask someone to use their phone to help you, doing the following can help make your case:
Call 911 to report the accident and request emergency services

Take photos of the accident scene, including your vehicle, the truck, any other involved vehicles, and any contributing factors like road signs, intersections, and traffic signals

Take photos of any visible injuries

Record a brief statement about what you remember about the accident while it's fresh in your mind since trauma may fade your recollection later

Add the contact information of the truck driver and trucking company, plus any eyewitnesses to the accident
After you arrive at the hospital, have a complete medical exam. Tell the doctor about every symptom, even if it seems minor at the time. Get a detailed medical report with your doctor's recommendations for treatment and your prognosis.
After you know the extent of your damages, obtain a copy of the police report, save all medical bills and related receipts, and call the Austin truck accident lawyers at Shaw Cowart LLC.
Causes of Truck Accidents in Austin
While factors beyond our control such as hazardous weather conditions or poorly marked roads contribute to some semi-truck accidents that occur in the Austin area, the vast majority of 18-wheeler accidents are caused by negligence on the part of the truck driver, trucking company, or truck manufacturer. Sadly, many of the devastating injuries caused by these collisions could have easily been prevented if truck drivers and trucking companies took greater care to ensure the safety of others sharing the road.
Some common causes of truck accidents include:
Improperly maintained trucks
Insufficient truck driver training
Aggressive or reckless driving by a truck driver
Unrealistic schedules that require truck drivers to exceed the hours of service limitations established under federal and state laws
Truck driver fatigue
Drug and alcohol use by truck driver while on the road
Unbalanced truck loads
Overloaded trucks
Distracted driving, particularly involving the use of cell phones behind the wheel
If you believe you were in an accident with an intoxicated driver, please call our drunk driving accident lawyers in Austin today!
Call Our Austin Truck Accident Attorneys Today
Please contact Shaw Cowart LLP or call 512-499-8900 today to schedule your FREE case consultation today. Our truck accident lawyers in Austin will be ready to serve you. We serve clients in the Austin, Texas area.