Motorcyclists are 28 times more likely to die in an accident than people in passenger vehicles. While motorcyclists tend to be viewed as rash and dangerous, nothing can be farther from the truth. In reality, their injuries are often caused by the actions of other drivers.
Compared to other vehicles, motorcycles are small and exposed. As a result, motorcycle accidents tend to be much more severe than car accidents.
After a motorcycle crash, it's important to work with an experienced legal team who knows how to assess your damages so you can get what you're owed. If you or a loved one has suffered serious injuries in a motorcycle accident, contact Austin, Texas law firm Shaw Cowart LLP for a complimentary case review. Call our motorcycle accident attorneys at 512-499-8900
Common Causes of Motorcycle Accidents
Head-on collisions are the leading cause of motorcycle accidents, followed by cars making left-hand turns in front of motorcycles. Other top causes of motorcycle crashes include:
Passing and overtaking
Drunk driving
Speeding
Inclement weather
Road hazards
Whether your collision is caused by another driver or an unforeseen circumstance, you may be wondering what to do next. Our experienced motorcycle accident lawyers will help you determine the best course of action to take when seeking reparations for your damages.
Determining Fault in Motorcycle Crashes
Motorcycles are smaller and therefore less visible to other drivers, but that doesn't absolve drivers who fail to notice and yield the right of way to riders. The driver who caused your accident can be held liable for your injuries if they engaged in negligent behaviors, such as not checking their mirrors or following too closely.
In some cases, another driver may not be the only party to blame. Depending on the cause of your crash, other at-fault parties may include:
Motorcycle designer, manufacturer or assembler
Safety gear designer, manufacturer or assembler
Construction or road crews
We will conduct a thorough investigation of your collision to determine who is ultimately responsible for your injuries.
No-Contact Motorcycle Accidents
Did you know that a crash can happen even if you don't hit another vehicle? Known as a no-contact accident, these crashes occur when a rider hits the breaks or lays down their bike in order to avoid a collision.
If you were involved in a no-contact motorcycle accident, the other driver can still be held liable for their negligence. Examples of negligent actions include careless, aggressive and reckless behaviors, such as:
Changing lanes without signaling
Running red lights
Tailgating
Not checking blind spots
Texting and driving
Exceeding posted speed limits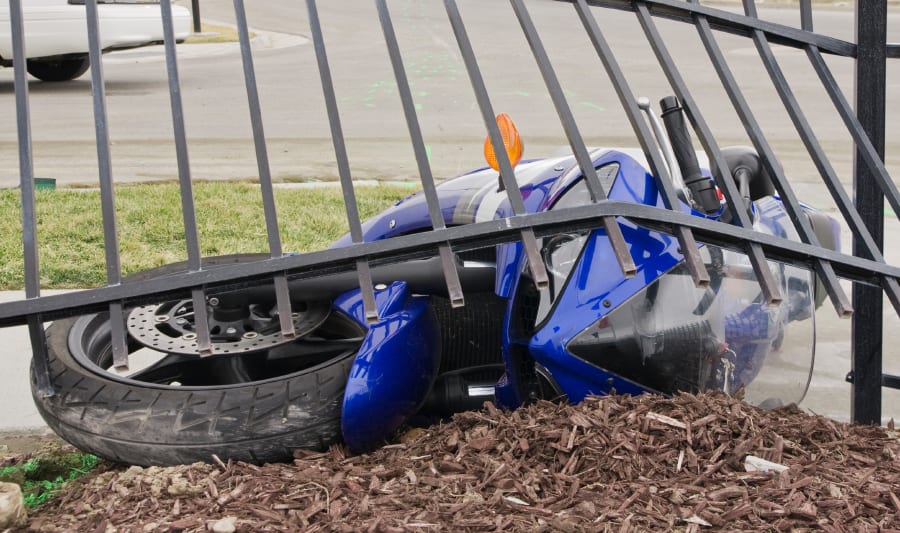 Holding a negligent driver at fault in a no-contact accident can prove difficult. If the driver is not aware they caused your injuries, they will likely leave the scene.
Our attorneys can help you prove that another driver's negligent actions caused you to swerve, fall off of or lay down your bike, resulting in your injuries. They will work with you, any witnesses and law enforcement to locate and prosecute the at-fault driver.
Texas Motorcycle Helmet Laws
All Texas riders under age 21 are required to wear a helmet when operating a motorcycle. Motorcyclists over age 21 can only ride without a helmet if they've completed a motorcycle operator training and safety course AND are covered by an applicable health insurance plan.
While you may be exempt from helmet laws, you should never ride without one. Serious head injuries are one of the most common personal injuries associated with motorcycle accidents, and a helmet can reduce your risk of head injury by 69 percent. A helmet also reduces your risk of death by 37 percent.
Safety Tips for Motorcyclists
Almost all motorcycle crashes involve riders who are self-taught. Before using your bike, consider investing in professional training.
In Texas, all riders must attend a basic training course before they can receive their motorcycle license. The Texas Department of Public Safety also offers intermediate, advanced and specialized training courses to riders who want to expedite the licensing process and bolster their safety knowledge.
Regardless of your abilities, you should always practice safe and smart riding. While you cannot control the actions of other drivers, you should do everything possible to be in control of your vehicle at all times.
Follow these tips every time you ride:
Never share or split lanes: Lane splitting is illegal in Texas.
Know your skill level: Ride on roads and during times of day that are safest for you.
Avoid driving during inclement weather: Rain, fog and other adverse weather conditions are especially dangerous for motorcyclists. Always check the weather before riding.
Wear a helmet and protective clothing: Wear abrasion-resistant gear and bright clothing that's easily visible to other drivers.
Contact Our Austin Motorcycle Accident Attorneys
Motorcyclists are entitled to the same rights as other drivers. If you or a loved one were severely hurt in a motorcycle accident, you deserve justice. Call 512-499-8900 to schedule your complimentary consultation. Shaw Cowart LLP serves clients in the Austin, Texas, area.