When you purchase a consumer product, you have the right to expect that the product will be safe and work properly when used as designed. Unfortunately, this is often not the case. When product manufacturers place profits over consumer safety, serious injuries can occur that may impact your life for years to come.
If you've been injured using a defective product, you are most likely facing serious financial burdens. Medical bills can add up quickly, and if you're unable to work while you recover from your injuries, it can be difficult for your family to stay afloat financially. But you don't have to go through this difficult time alone. The product liability attorneys in Austin are here to help.
Why Choose Our Austin Product Defect Lawyers at Shaw Cowart?
Our lawyers have extensive experience fighting for the rights of individuals injured by defective products. We know the complex laws governing these cases, and we have the resources necessary to battle the high-powered legal teams hired by negligent manufacturers. We'll stand by your side every step of the way to help you receive the compensation you deserve.
You can learn about your legal rights and options by speaking with our lawyers in person. Please call 512-499-8900 today to schedule a complimentary consultation. We serve clients in the Austin, Texas area.
What is Product Liability Law?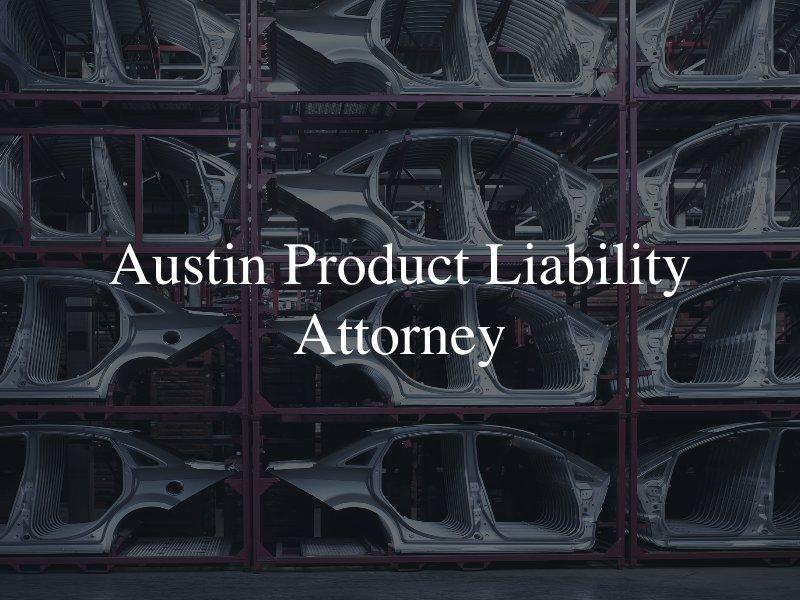 Product liability law addresses personal injuries caused by defective products. Under Texas product liability law, all parties involved in the manufacture, production, or sale of a product have an obligation to ensure that the product works safely as designed. When a product defect results in an injury to the consumer, one or more parties may be held liable, including the:
Manufacturer
Wholesaler
Retailer
Our Austin personal injury attorneys will be there for you every step of the way during your product liability lawsuit.
Understanding Product Liability in Texas
In Texas, individuals wanting to bring suit against a manufacturer, wholesaler, or retailer who made, distributed, or sold a defective product are governed under strict liability. Strict liability means negligence does not have to be proven to bring a product liability case.
Essentially, for product liability in Texas, an individual must prove that a product purchased and used by them caused bodily injury or other forms of harm. There is no need to prove the defendant's negligence, regardless of the steps they took to ensure the product's safety.
The "Innocent Retailers" Defense
In 2003, the Texas Legislature passed House Bill 4 (HB 4), which was an overhaul of the existing product liability system. HB 4 created an "innocent retailers" defense regarding product liability lawsuits. This provision makes it clear that as long as the retail establishment did not modify a product, it cannot be held liable for injuries from a defective product.
So while a retailer could still be held liable under strict liability as previously discussed, this is only in the case of product modification.
Facts About Product Liability
Defective products caused 11,738,091 individuals to be injured in 2021, according to the Consumer Product Safety Commission (CPSC) and National Safety Council (NSC). The top three consumer product categories that create consumer injuries are:
Stairs, Ramps, Landings, and Floors
Beds, Pillows, and Mattresses
Chairs, Sofas, and Sofa Beds
The demographic with the highest injury rate is infants and children ranging from 0 to 4 years old.
In 2021, there were 408,000 active product liability cases, with half of all pending federal cases considered a product of the consolidation of multidistrict litigation (MDL). In Texas, approximately 800 product liability claims and cases are filed annually.
Types of Product Defects In Austin
Product liability claims can arise from any of the following types of product defects:
Design defects
Manufacturing defects
Marketing defects
Breach of Warranty
Design defects are the result of an error in the actual design of the product. They occur in the initial stages of the product development process and generally affect every item that was manufactured using these faulty design plans.
Manufacturing defects occur later in the product development process. In these cases, there are no issues associated with the design of the product. Instead, there was a mistake in the execution of the design during the manufacturing phase of the process. As a result, manufacturing defects tend to only affect the items that were made using these negligent production methods.
Marketing defects occur when the product's instructions do not adequately inform consumers of any possible dangers that may be associated with its usage or when the instructions fail to accurately describe how to use the product properly. Common instances of marketing defects include:
Inaccurate labeling of products
Failure to warn consumers of potential dangers associated with the product
Inadequate instructions
Negligent misrepresentation of product use and safety
Breach of warranty occurs when a product violates an express or implied contract. At its core, if a product issues a warranty at the product at the time of purchase, the consumer should be able to trust that this warranty will hold. If this is not the case, an individual can bring a product liability suit on the grounds of breach of warranty.
Rebuttable Presumption in Product Liability Cases in Austin
In the case of defective medicines cases and other products with federal oversight, there is a provision in the Texas Civil Practice and Remedies Code that uses what's known as the rebuttable presumption rule of law.
This provision states that as long as the product was made in compliance with mandatory safety standards and had adequate labeling, an individual cannot bring suit against a manufacturer – even if the labeling does not adequately communicate the risk assumed by usage.
Statute Of Limitations For Product Liability Claims in Austin
Unlike personal injury law, product liability claims have a longer statute of limitations. The time limit to file a claim is 15 years from the recorded purchase date. However, you must maintain documentation of the defective item's date of acquisition.
Additionally, you may have more time added to your clock if your injury was not known from the purchase or if the warranty period surpasses the product liability statute of repose.
Types Of Defective Product Cases We Handle In Austin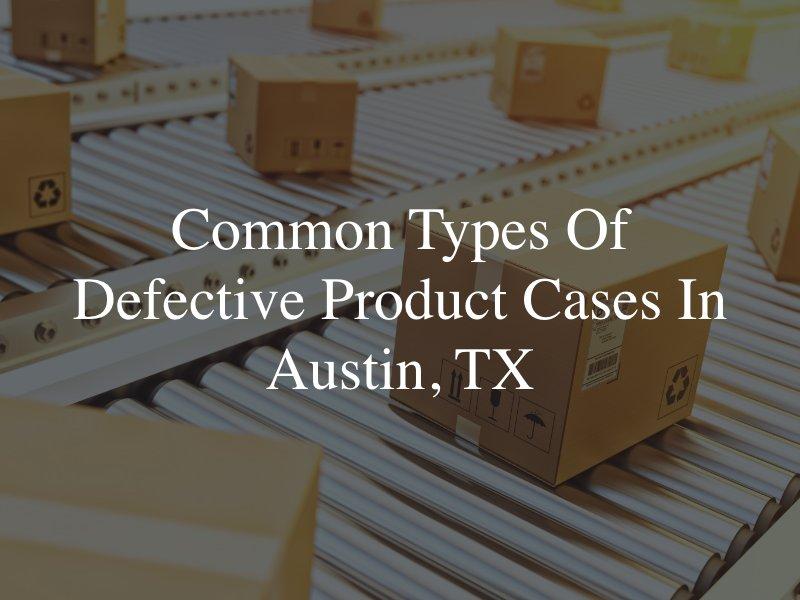 The attorneys at Shaw Cowart LLP have experience handling a wide range of product liability cases. Some cases include car or car-part defects, leading to car accidents in Austin. If you believe that your collision was due to a defective product on your vehicle, don't hesitate to reach out to our Austin car accident attorneys to review your case.
More type of defective products include:
Defective Drugs/Pharmaceutical Injuries
IVC Filters
If you've been injured by a defective product not listed above, our lawyers can still help. We'll advise you as to the best way to proceed during your free case evaluation.
Common Austin Product Liability Injuries
In 2021, 11.7 million consumers suffered injuries and even fatalities due to defective product usage. Common injuries from defective products include the following:
Choking: Toys and other products with small parts sometimes cause choking, especially in small children

Suffocation: Bedding and other infant sleep products sometimes cause suffocation

Brain Injuries: Defective bicycles, defective motorcycle parts, and other defective products can result in a fall with resulting head injuries
Spinal cord injuries: When a defective product causes the body to sustain a blunt force impact, a spinal cord injury may result

Amputation: Defective construction equipment is a common cause of traumatic amputations

Burn injuries: Fireworks with inadequate safety labels are an example of defective marketing that results in burn injuries

Cancer: Products like talcum powder and asbestos are examples of defective products that cause cancer after long-term exposure

Broken bones: Many types of defective products result in fractured bones, including defective playground equipment

Drug reactions: Medications that haven't been thoroughly proven safe may be rushed to market and cause injury

Organ damage: Some medications have inadequate warning labels that fail to inform consumers about long-term effects on organs like the liver and kidneys
If you've suffered any of the above injuries or a less common injury directly due to your use of a defective product, an Austin defective lawyer can help you.
Defective Product Litigation In Austin
It is the responsibility of the manufacturer to ensure that consumer products satisfy public safety standards. Failure to satisfy these responsibilities constitutes negligence, and you can file a lawsuit to hold all negligent parties accountable for any damages you've suffered.
Product liability claims can be filed against a manufacturer if they did not notice or accommodate for potential safety concerns before producing and selling a product. Injury claims based on strict liability focus on the inherent lack of safety in a given product and do not require proof of design or manufacturing negligence. Large manufacturing companies are likely equipped with extensive resources to defend defective product lawsuits.
How To Prove Defective Product Liability In Austin
Depending on the type of product and the injury it caused, a skilled defective product lawyer in Austin can prove liability through one of the following methods:
Proving a design defect requires showing that the injury would not have occurred if the design had been altered or a less dangerous design used and using the less dangerous design was a reasonable and financially feasible option

Proving a manufacturing defect sometimes includes showing the same product from a different line or lot number that didn't contain the dangerous defect

Proving a marketing defect requires showing that the product's marketing team failed to affix a proper warning label or adequate instruction to a product when they could have reasonably assumed that a consumer might use the product in a manner that caused an injury
An experienced defective product lawyer in Austin will investigate the circumstances of your defective product injury to prove your injury would not have occurred if the product hadn't had a design flaw, manufacturing defect, or marketing failure.
What To Do If You've Been Injured By A Defective Product
It may be difficult to keep a clear head after an unexpected injury, but if you were injured by a defective product, what you do in the moments and days after the injury may determine your physical and financial recovery. If you've been gravely injured, you may be able to do little other than wait in place for help, but if you're able to use your cellphone, or ask someone else to use it for you, taking the following steps can help secure your future recovery:
Call 911 to request an ambulance or arrange transportation to an emergency room

Take photos of the defective product

Take photos of any visible injury

Place the defective product in a bag to preserve it in its current condition after the accident

Collect the contact information of any eyewitnesses
At the hospital, have a full evaluation of your injury and ask the provider for a full medical report with details about your prognosis and the doctor's treatment recommendation. If you have the original packaging and your receipt from the product's purchase, keep them as evidence as well as copies of your medical bills and an employer's statement of any missed work days. Avoid posting on social media and call the defective product injury attorneys at Shaw Cowart LLP.
Contact our Austin Defective Product Attorneys
Our lawyers, such as our Austin bicycle accident attorneys have the experience and resources to battle the legal teams employed by negligent manufacturers. We combine this big firm experience with levels of personalized care typically found in smaller law firms to ensure your case is given the attention it deserves.
Our product liability lawyers in Austin will personally handle every aspect of your case, and they are available to answer questions or provide you with updates at any time. This combination of big firm resources and small firm care is a big reason we've developed a proven track record of success that includes lucrative verdicts and settlements for many of our clients.
Please contact our lawyers and call 512-858-8211 today to schedule a complimentary consultation. We serve clients in the Austin, Texas area.