Unfortunately, thousands of pedestrians are killed in collisions with motorists each year. Tens of thousands more are seriously injured. Pedestrians are incredibly vulnerable to severe physical personal injury, even when vehicles are traveling at slow speeds. If a careless driver injured you or a loved one, you may be entitled to seek compensation above what any initial insurance companies may offer. Speak to the injury lawyers in Austin today.
Austin Pedestrian Accident Resources:
Why Choose Our Team of Experienced Austin Pedestrian Accident Attorneys?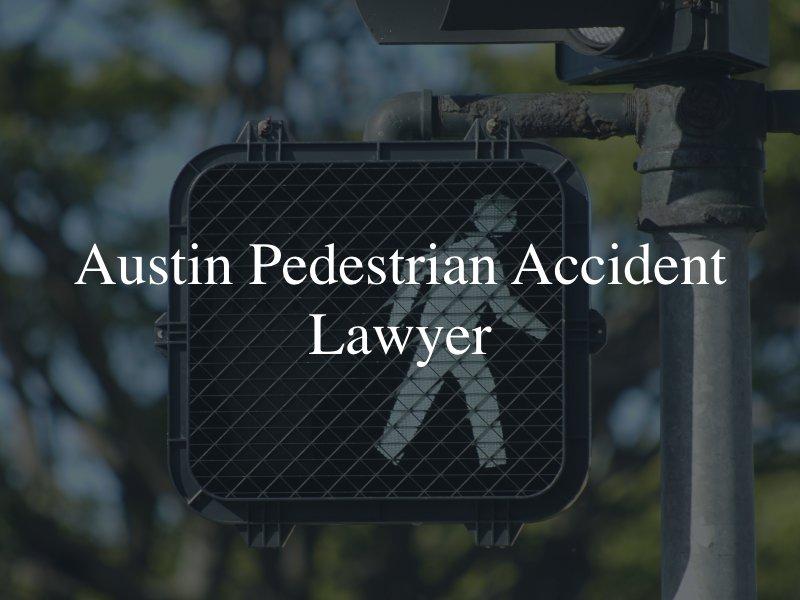 At the law firm of Shaw Cowart LLP, we fearlessly fight on behalf of our clients. Throughout our firm's extensive legacy, we've won millions of dollars for our clients by successfully negotiating settlements or by taking their cases to court.
It's quite easy to get started working with our firm. To learn more about how we can work together with he help of the law, please contact our team of Austin pedestrian accident lawyers at Shaw Cowart LLP, at 512-499-8900 to receive your free consultation today.
What Is A Pedestrian Accident In Austin?
A pedestrian accident refers to a collision between a person on foot and a motorist or multiple motorists. The person may have been walking, jogging, or running at the time of the accident, but at any rate, they did not have any protection from the impact of the collision. As a result, severe injuries are not uncommon.
If you were hit by a vehicle while on a bike, please reach out to our bicycle accident lawyers in Austin today.
Pedestrians And Texas Motorists: The Deadly Facts
There is one pedestrian fatality every 75 minutes across the United States, according to the Centers for Disease Control (CDC). Throughout the country, one in six motor fatalities were pedestrians.
In comparison, that rate is larger for Texas pedestrian fatalities. In Texas, pedestrian deaths account for one in five all cumulative deaths on Texas roads, according to the Texas Department of Transportation (TxDOT)'s Pedestrian Safety Campaign.
Here are some of the statistics regarding pedestrian injuries and deaths in Texas in 2021:
5,366 car crashes involved pedestrians
841 pedestrians died in car accidents, a 15% increase from 2020
1,470 pedestrians have been seriously injured in accidents with motorists
These statistics of injured pedestrians illustrate the sad truth of how common pedestrian accident cases are in Texas. If you've been severely injured in an accident due to driver negligence, contact legal representation and speak to our Austin personal injury attorneys today.
What Are Typical Injuries From Pedestrian Accidents In Austin?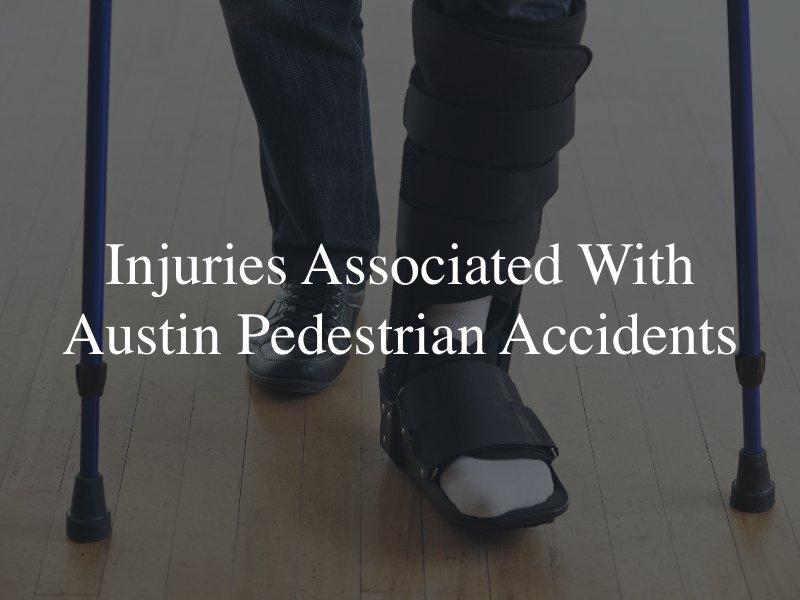 As discussed, the lack of safety equipment for most pedestrians means that they will likely take the full brunt of the collision, with little to nothing to protect them. The resulting collision injuries can be life-threatening, if not fatal. If a loved one is a seriously injured pedestrian or killed in an accident, reach out to our wrongful death attorneys in Austin to learn more about what you should do.
Here are more common serious injuries that an individual can experience after being struck by a motorist:
Whiplash: w

hiplash occurs when a sudden jarring motion causes a rapid back-and-forth motion of the head and neck, damaging the small discs, muscles, and tendons in the neck. Severe whiplash can also cause brain injury by forcing the brain to bump against the interior of the skull

Broken bones,

including debilitating hip and pelvic fractures

Shoulder displacement

Ruptured organs

Brain injury

: a traumatic brain injury (TBI) can range from a mild concussion to a severe injury causing long-lasting or permanent impairment and requiring intensive rehabilitation therapies to maximize recovery 

Soft tissue injuries

such as sprains and torn ligaments

Spinal cord injuries

:

damage to the spinal cord may result in paralysis from below the point of the damage and is a life-altering injury

Loss of limb (amputation)

Road rash

Bruises and lacerations

Scarring and disfigurement
These injuries will be largely debilitating to any pedestrian. In contrast, examples of motorists receiving injuries from collisions with pedestrians are virtually non-existent.
Who Is At Fault In An Austin Pedestrian Accident?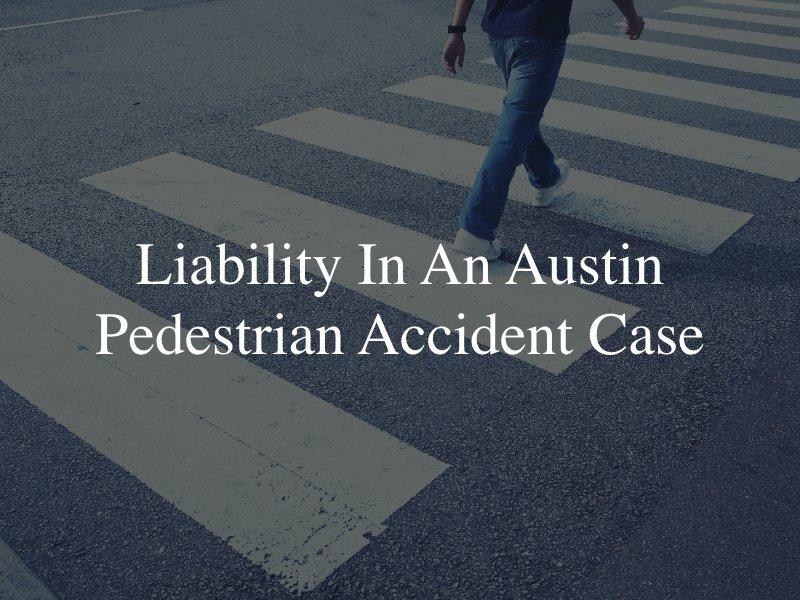 Whenever a pedestrian is struck by a vehicle, it may seem easy to assume that it is 100% the driver's fault. Sometimes this is the case, but not always.
For example, a pedestrian who attempts to cross an interstate or a high-speed roadway where there are no crossings may be held responsible for resulting injuries. A pedestrian who is looking down at their phone or listening to headphones may be too distracted and therefore unaware of their surroundings.
Because of comparative negligence in Texas, a compensation award may be reduced by the percentage of the pedestrian's fault in causing the accident.
The most common at-fault parties are:
Motorists
Pedestrians
Bicyclists
Inadequate roadway signage
Roads in disrepair
In accident and personal injury claims handled by Shaw Cowart, pedestrian accidents are most often caused by careless or reckless motorists, and motorists breaking the rules of the road. Because it's not always clear who is responsible for the collision, it's important to consult our accident attorneys in Austin who can immediately get to work investigating your claim.
How Do I Prove Negligence in a Pedestrian Accident Claim?
Texas's modified comparative negligence laws require accident investigators and personal injury attorneys to prove an at-fault party liable or negligent in an accident, including pedestrian accident claims. Comparative negligence laws may reduce the amount of an accident victim's compensation by their percentage of fault, but the law also allows victims to claim compensation if they are less than 51% at fault.
While pedestrians aren't always perfect, and some accidents happen when pedestrians are distracted by devices or dart out in front of traffic, the majority of pedestrian accidents are caused by a negligent driver. Drivers tend to have a greater awareness of other vehicles on the roadway than they do of nearby pedestrians. Proving liability in a pedestrian accident requires the accident victim to show evidence of the following points of legal liability:
That the defendant owed a duty of care to the injury victim and other pedestrians to take reasonable measures to keep them safe, such as avoiding distraction and following traffic laws

That the defendant breached that duty through an act of negligence or recklessness

That the negligence directly caused the pedestrian injury

That the injury victim experienced real economic and non-economic damages like medical expenses, lost income, and pain and suffering.
An experienced pedestrian accident attorney in Austin knows how to thoroughly investigate all aspects of your case to clearly show negligence on the part of an at-fault driver.
What Are The Causes Of Pedestrian Accidents In Austin?
Whenever the unthinkable happens, it's important to understand what caused it. Common causes of pedestrians accidents with vehicles include
Distraction on the part of the motorist, pedestrian, or both
Intoxication and drug use
Inattentiveness and carelessness
Aggression and road rage
Failure to yield
Failure to obey traffic signals and stop signs
Failure to use turn signals
Speeding
Fully understanding the details of a pedestrian accident will help you and our team of pedestrian accident attorneys in Austin can properly identify the fault in your injury case.
What Are The Different Types Of Pedestrian Accidents in Austin?
Pedestrian accidents can happen in several ways. Some of the most common ways that pedestrians and cars collide in Austin include:
Pedestrian Dart-Out Accidents: these occur when a pedestrian steps into the street without yielding the right of way to oncoming cars or misjudging the amount of time they have to cross. Dart-out accidents may also occur when a pedestrian is distracted by their phone.
Intersection Pedestrian Accidents: in rare instances, an intersection accident with a pedestrian could be caused by a malfunctioning signal light, but more often they are caused by unwary or distracted motorists failing to yield to pedestrians in a marked or unmarked crosswalk.
Passing Accidents: when a car passes a stopped bus, taxi, or rideshare vehicle on the left without realizing a passenger exited the bus or vehicle and is crossing from the right to left, deadly or catastrophic pedestrian accidents may occur. Sadly, this is sometimes a problem with children exiting school buses when drivers disregard the flashing stop signals on the bus.
Vendor Accidents: this type of accident occurs when people cross the street suddenly for a food truck or ice cream truck or when lines form around food trucks and other street vendors.
Turning or Merging Accidents: these accidents occur when a driver is making a right turn and focusing on the on-coming traffic from the left and then moves forward in a right turn without checking for an oncoming pedestrian from the right. A similar error happens when a driver is making a left turn and fails to see a pedestrian approaching from the left because they are watching for oncoming traffic on the right.
Back-Up Accidents with Pedestrians: this type of accident occurs in parking lots when a driver reverses out of a parking space and collides with a pedestrian walking behind their car.
What to Do After a Pedestrian Accident in Austin
Accidents happen quickly and without warning. Pedestrian accidents are particularly catastrophic and after this type of accident you may be able to do little except wait for help, but if you can use your phone or hand your phone to someone else to use for you, the following steps can help to protect your physical and financial future:
Call 911 to report the accident and request emergency services

Take photos of the accident scene, the involved vehicle(s), and your visible injuries

Collect the contact information of the driver and any nearby eyewitnesses
After you're transported to the hospital, ask for a complete medical evaluation and a detailed medical report listing your injuries, treatment recommendation, and prognosis for recovery. Then obtain a copy of the accident report, keep all medical bills, and call an Austin pedestrian attorney before speaking to insurance company representatives.
Tips for Avoiding Pedestrian Accidents in Texas
Walking is a healthy choice for the body and the Texas ecosystem, but when a pedestrian and a 4,000-pound vehicle collide, the pedestrian is at a horrific disadvantage. While you can't prevent all unforeseeable accidents, pedestrians can minimize their risk of injuries by the following preventative tips:
Increase visibility by wearing bright clothing, using reflective tape or clothing after dark, and using a flashlight in the evening

Cross a street only at a designated crosswalk and use signal lights where available

Use sidewalks when available or walk as far to the side of the road's shoulder as possible facing oncoming traffic

Avoid distractions such as cell phones and music devices

Never use noise-blocking headphones or earbuds while walking near traffic

Don't walk near traffic after using alcohol or other mood-altering substances

Make eye contact with nearby drivers before crossing to ensure they are aware of your presence.
While the above tips apply to pedestrians who wish to increase their safety while walking near traffic, there are also tips for drivers to help avoid a disastrous encounter with a pedestrian. Drivers should:
Carefully drive at or below the speed limit in congested areas where pedestrians walk or cross

Make eye contact with pedestrians so they know you are aware of their presence before they cross a crosswalk

Carefully observe school zone speed limits

Be patient with crossing seniors and people with disabilities

Don't pull around stopping buses or other vehicles that could be letting passengers exit or who could be stopping to allow a pedestrian to cross
When both pedestrians and drivers practice extra vigilance and rigidly adhere to traffic rules, it greatly minimizes the risk of an accident.
How Much In Damages Can You Collect in Austin For Your Pedestrian Accident Injuries?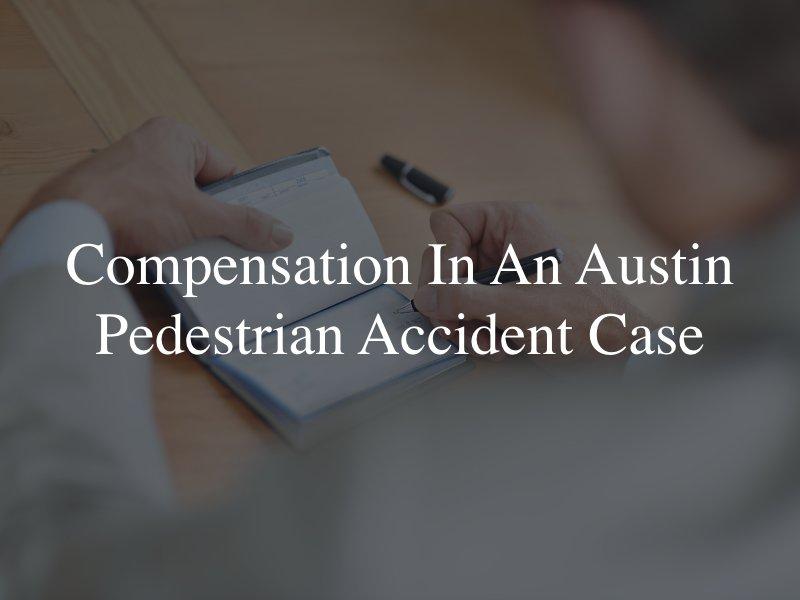 Unfortunately, there's no way to predict the future and guarantee the recovery of monetary compensation. Similarly, there is no way to guarantee a specific amount if compensation is awarded. When you meet with our attorneys in a consultation, we will learn all the details of your case and give you an idea of what we think you may be owed.
Compensation awards are typically calculated based on the value of the following damages.
Economic Damages
These are damages that have a clear financial cost to the victim. Examples of economic damages include
Medical expenses
Ongoing and future medical needs
Loss of earning capacity
Loss of future earning potential
Non-Economic Damages
In contrast to economic damages, non-economic damages are unable to be financially quantified. These are largely subjective and not tied to real-world financial losses. However, just because you cannot quantify them does not mean they are any less important.
Here are examples of non-economic damages in a pedestrian accident case:
Pain and suffering
Emotional Distress
Loss of Companionship and Society
Anxiety, Depression, and Post-Traumatic Stress Disorder
Some of these things, like the suffering and diminished quality of life you experience, don't have a ready-made bill or receipt to show their monetary value. That's part of the reason why you need an experienced, skilled, and passionate attorney on your side to advocate for full and fair compensation by demonstrating just how dramatically your life has been altered.
How Soon Should You Contact An Austin Pedestrian Injury Lawyer And File Your Claim?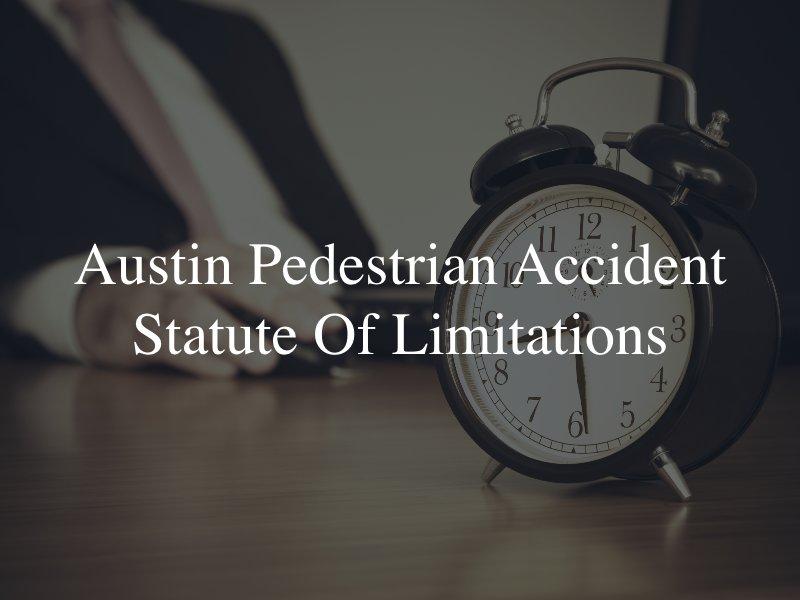 You should contact our team of pedestrian accident attorneys in Austin as soon as possible. Your first and most important task is to get medical care. Contact our attorneys soon after so we can learn more about the pedestrian accident that injured you and go over your options for pursuing maximum compensation.
There is a statute of limitations that sets a timeline for filing a personal injury claim, so it's important to act promptly. When you call our law firm, we will help you understand your options with no obligation involved. We care about providing clear, straightforward information to pedestrian accident victims who are looking for answers.
When starting your free consultation with our pedestrian accident attorney, bring as much documentation (medical bills, police reports, witness testimony) to your case review as possible. This will give your prospective legal team the best recommendation for your pedestrian accident case review.
Austin Pedestrian Accident Case Results
Shaw Cowart recently resolved a claim on behalf of an injured client for $100,000
Shaw Cowart recently was able to resolve a case for an injured client in excess of $200,000.
Shaw Cowart was lead counsel in an accident resulting in paraplegic injury and reached a confidential settlement.
Pedestrian Accident Victim Testimonials
"If anyone is looking for a knowledgeable attorney with excellent communication, Ethan Shaw is your attorney."
"PSA if you don't know where to turn to and you're browsing on Google please reach out to these guys and at least get a consultation I promise once you do that you will know immediately that they are the ones for you, I did."
"Give them a call first. Trust me. You will not regret it when it comes to vehicle accident care. I love them, and I know you will too."
Contact An Austin Pedestrian Accident Attorney Today
If you or a loved one was injured in a pedestrian accident in Austin, Texas, or the surrounding areas, contact us and call the law firm of Shaw Cowart at 512-499-8900. We are personally committed to obtaining the best possible results so that you can begin to move forward and move on from this traumatic incident.
Get started working with us today, and let us help you give you peace and healing in the aftermath of your pedestrian car accident case.
Areas We Serve:
Downtown | South Congress (SoCo) | Zilker | East Austin | Barton Hills | Travis Heights | Clarksville | Hyde Park | Tarrytown | Bouldin Creek | Mueller | Crestview | Allandale | Rosedale | Brentwood | Windsor Park | South Lamar | North Loop | Cherrywood | East Cesar Chavez | Old West Austin | Pemberton Heights | Steiner Ranch | Circle C Ranch | Barton Creek | Avery Ranch | Clarksville | Travis Country.