Have you or a loved one experienced a slip and fall-related injury due to the negligence of a property owner or manager? Do you need help navigating the Texas civil court system? Luckily, the firm of Shaw Cowart LLP is standing by your side.
Why Choose The Austin Slip And Fall Lawyers At Shaw Cowart?
Shaw Cowart's personal injury attorneys in Austin have millions of dollars in settlements in cases like yours. We want you to know that you're not alone and could be eligible for financial compensation. We are ready to help you and your loved ones get the maximum compensation you deserve.
Contact us today at 512-499-8900 for your free, no-obligation slip and fall case review.
Facts About Slip and Falls Accidents
The Centers for Disease Control (CDC) has conducted substantial research on falling since it is a serious public health issue. The research shows that:
Medical expenses associated with falls among persons over 65 cost $50 billion, with the US federal government covering 75% of those expenses
Over 3 million adult fall-related visits to emergency rooms in the U.S. were recorded in 2019
The most common cause of injury-related death among adults in the US is falling, which claims more than 34,000 lives annually
One in four adults age 65 or older fall every year
Additionally, in Texas, the rate of slips and falls is greater, with 33.9% of adults over age 65 falling annually. If a loved one was fatally wounded in a slip and fall accident, call Shaw Cowart's wrongful death attorneys in Austin today.
Injuries Suffered in a Slip and Fall Case
Most people don't think of falls as highly dangerous, but the CDC reveals that falls are the number one cause of traumatic brain injuries—even more than car accidents. Though elderly fall victims are especially at risk, slip and fall accidents can happen at any age. Common injuries suffered in slip and fall accidents include:
Head injuries/traumatic brain injuries

Neck injuries

Back injuries

Knee injuries

Spinal cord damage

Fractures, including debilitating fractures of the hip and pelvis

Broken teeth

Bruises and lacerations

Soft tissue damage like torn ligaments and sprains
Falling is not only dangerous, it's often a traumatic experience. Fall victims sometimes face lingering PTSD or feelings of shame, embarrassment, and anxiety.
The Austin slip and fall lawyers at Shaw Cowart, LLP, understand the trauma associated with a sudden hard fall, especially when the fall was a preventable accident if only someone else had taken reasonable measures to prevent the injury.
What Is A Slip and Fall Case?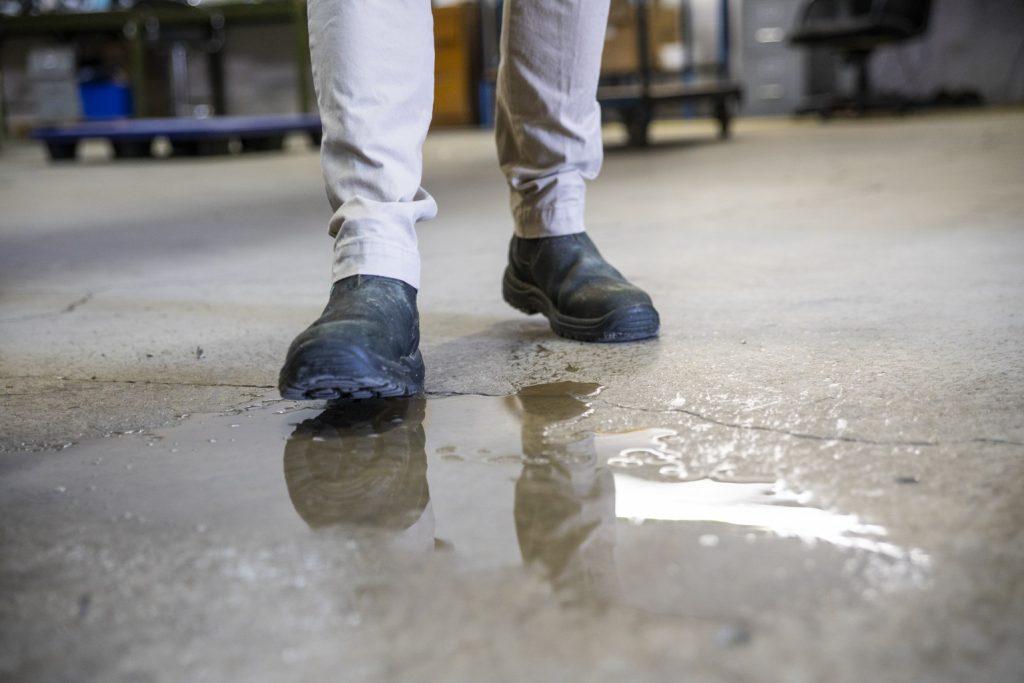 All property owners or lessees have the legal duty to maintain a property's circumstances in good order. This is the basis of premises liability law.
A slip and fall case is a common premises liability case. While slip and fall cases fall under premises liability, not all premises liability cases are slip and fall cases.
Causes of Slip and Fall Accidents
Owners of both private and commercial properties have a duty to take reasonable measures to prevent harm to those legally on their property by identifying fall hazards and promptly addressing them with warning signs, repairs, and corrective measures. When they fail to take the measures a reasonable person would have in the same circumstances, they can be held liable for the economic and non-economic damages the fall victim faces. Common causes of falls on commercial and private property include:
Wet, slippery floors, pavement, or walkways

Uneven pavement or floorboards

Unmarked level changes such as step-downs or step-ups

Loose or wrinkled carpets and floor mats

Exposed electrical cords or charging cables

Potholes

Cracked or broken flooring

Slippery floor surfaces from improper cleaning product usage

Clutter or debris

Inadequate lighting
Falls can also happen on stairs due to uneven stair risers or loose handrails. When you are legally allowed to be on a property, you have a right to feel safe from fall hazards. If you've experienced a fall in Texas, the Austin slip and fall attorneys at Shaw Cowart LLP are ready to hear about your experience.
What to Do After a Slip and Fall Accident in Austin
Taking a bad fall can be traumatic, especially in a public place where your pain may be combined with embarrassment. If you've sustained a head injury from the fall, you may be able to do little other than wait for help, but if you're able to keep a clear head during the aftermath of a fall you can use your cell phone as an important tool to protect your future. Use your phone—or hand it to an uninjured person to use for you—and take the following steps:
Call 911 to request emergency services

Take photos of the hazard that caused your fall

Take photos of any visible injuries you have

Add the contact information of the property owner

Add contact information for any eyewitnesses to your fall

Record your statement about what happened while the details are fresh in your mind

Ask the property owner to fill out an accident report
Once you arrive at the hospital, be sure to tell the doctor about all of your symptoms, even if they seem minor. Undergo a complete medical evaluation and ask the doctor to take detailed notes about your injuries, prognosis, and the treatment they recommend. Then, take the medical report, accident report, and cell phone evidence to the attorneys at Shaw Cowart LLP for a consultation before speaking to anyone from the insurance provider for the property.
Insurance representatives are never in a hurry to write out checks. Often they use recognizable strategies to avoid paying out on claims, such as offering a low settlement before you know the full scope of your damages or trying to assign you the blame for your fall. 
It's best to hire a skilled attorney and then direct all communication with the insurance company to your Austin slip and fall lawyer.
How Negligence is Determined in Slip and Fall Accidents in Austin
To bring any premises liability case, including slip and fall, victims must be able to prove the following:
The defendant knew there was a condition on their premises that could pose harm to an individual
The defendant did nothing to mitigate or eliminate the risk
The plaintiff's injuries or death are due to the defendant's failure to mitigate the risk, meaning they caused the injuries via proxy
Property owners or managers may also be affected by the law of attractive nuisance when it comes to slip and fall cases pertaining to children. When a minor child trespasses on land and receives an injury from trespassing, the owner or property manager may also be held liable for that accident.
If a minor falls into an apartment pool without a gate, fence, or locking device, the law of attractive nuisance applies.
Connection Between Slip and Fall and Premises Liability
When you've suffered a bad fall on someone else's property, they are liable for the damages if the fall was preventable had the property owner or manager only taken the precautions a reasonable person would have under the same circumstances. For instance, a hotel manager has the duty to notice a fall hazard like a loose corner of carpeting on a stair riser and promptly address it. A skilled slip and fall attorney can investigate your fall to show that the property owner should reasonably have been aware of the hazard and failed to prevent it from causing harm.
If you've sustained significant or serious injuries from a fall, the property owner must compensate you for your medical expenses, lost wages, and more. This compensation is typically paid through the property owner's premises liability clause included in their property insurance.
What Type of Financial Damages Am I Eligible To Receive In A Slip and Fall Case In Texas?
Our Austin pedestrian accident attorneys note that though the compensation amount for your slip and fall case in Texas may vary, individuals are eligible to receive damages to compensate for the following circumstances:
Lost wages due to injury
Payment of medical bills
Emotional Distress
Pain and Suffering
In the event you were injured in a slip and fall accident that caused a traumatic brain injury, contact our Austin brain injury lawyers to learn more about your case.
How Much is Your Slip and Fall Case Worth?
The circumstances of every injury are unique, as are the details of the medical expenses and time away from work required to recover from the injury. Though no two claims for damages are completely alike, most fall victims recover compensation for their medical bills and an estimated amount for future medical costs associated with the injury. For significant injuries, your Austin slip and fall lawyer will use the total amount of your medical expenses to determine the amount of compensation you can claim for pain and suffering. Typically, the higher the medical costs, the more likely an injury is to be painful and cause suffering.
In some cases, the victim of a fall injury can make a valid claim for other non-economic damages like the following:
Disfigurement if the fall caused broken teeth or required stitches on your face

Emotional suffering if you've experienced flashbacks, anxiety, or other emotional consequences from the bad fall

Loss of pleasure in life if the fall caused a life-altering injury such as a traumatic brain injury or disability
A seasoned slip-and-fall attorney in Austin can examine every aspect of your case to maximize the compensation you regain from your damages.
Shaw Cowart LLP: Your Personal Injury Legal Advocates, Fighting for Maximum Compensation
If you're lost in navigating your new normal after you or your loved one's slip and fall case, the firm of Shaw Cowart LLP is here for you.
We've settled countless cases successfully and are not afraid of trialing your case. To get started, just reach out to our team for your free, no-obligation case review today. Call us at 512-499-8900 to schedule your free case consultation appointment.