In an accident between a bicycle and a motor vehicle, the bicyclist is typically the person who suffers a catastrophic injury. It can be either party's fault, but a bike accident is oftentimes the result of careless drivers. You may be able to pursue maximum injury compensation if you were injured because of someone else's negligence. Contact our experienced personal injury lawyers today for your free consultation and help to receive maximum compensation.
Austin Bicycle Accident Resources:
Why Choose Our Austin Bicycle Accident Attorneys at Shaw Cowart?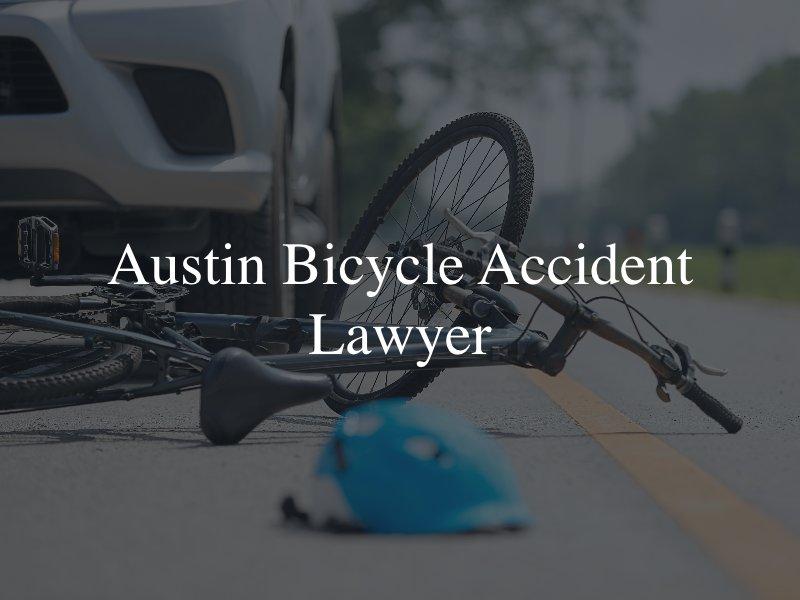 At the firm of Shaw Cowart, skilled bike accident lawyers in Austin seek maximum compensation on behalf of all of our bicycle accident clients. While nothing can fully assuage the pain and suffering you or a loved one has experienced, you can rest assured that we are on your side. With millions in successful settlements and jury verdicts, you can count on us as the legal team that Texans trust.
To find out if you are eligible to file an Austin bicycle accident case, please call the experienced Austin injury attorneys at Shaw Cowart for a free, no-obligation bicycle case evaluation, at 512-499-8900.
Ethan L. Shaw and John P. Cowart look forward to serving you by seeking justice on your behalf.
What Can an Austin Bicycle Accident Attorney Do for Me? 
When it comes to something as important as recovering the damages from an accident, you should never try to go it alone. An Austin bicycle accident attorney can advocate for your best interests throughout the process, using years of knowledge, experience, and strong local resources to do the following:
Investigate the accident by reviewing any photos or available videos from traffic cameras, dashcams, or area surveillance footage

Interview eyewitnesses

Interview medical experts about your injuries

Hire accident reconstruction specialists if needed

Draft a strong demand letter to the insurance company of the liable party

Negotiate from a position of evidence-backed power when dealing with the insurance companies to maximize the chance of an ample settlement offer

Take the matter into courtroom litigation if necessary to gain full compensation for your damages and craft a compelling case to present to a judge and jury
The unenclosed format of a bicycle offers no protection in an accident, yet insurance companies are never happy to pay out and may use tactics to try to undervalue or deny your claim. If someone else's actions caused your injury, a Texas bicycle accident attorney can help.
What Are The Common Causes Of Austin Bicycle Accidents?
There are many possible causes of bike accidents. Sometimes it's attributable to mother nature: wet roads in the rain or a sudden hail storm. In some bicycle accident cases, a bicyclist makes a careless mistake; however, motorists are often to blame for the following reasons:
Driver negligence
Drunk driving
Failing to allow a bicycle the rightful use of a lane
Turning in front of a bicyclist
Changing lanes without properly checking for a cyclist
Backing into a bicyclist
Driving in a bike lane
Opening a car door into the path of a bicyclist
Unfortunately, bicyclists are all too often the victims of hit-and-runs, when the motorist panics and takes off without rendering aid or calling emergency services. Our Austin accident attorneys may be able to help you maximize recovery from uninsured motorist coverage in these cases, although a thorough review of your insurance policy will be necessary. Oftentimes it doesn't extend to bicycling.
What Are Common Bicycle Accident Injuries Found In Austin?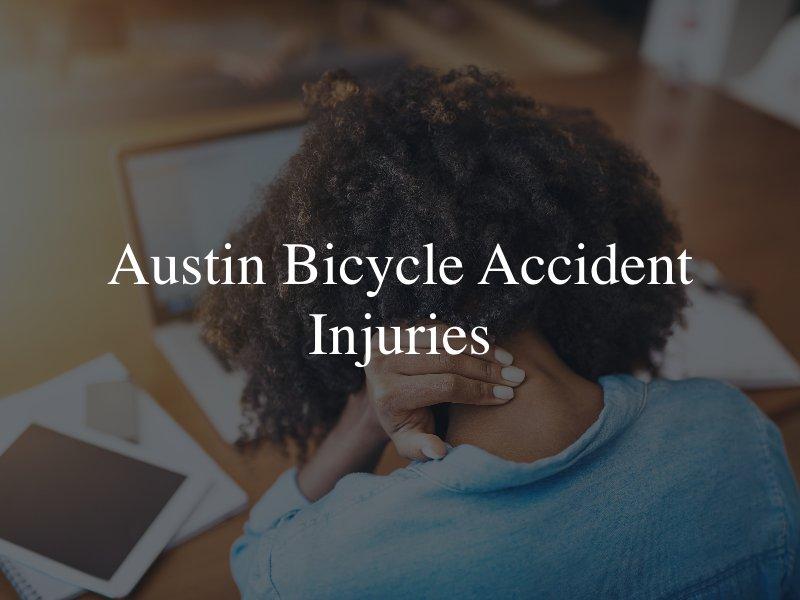 Similar to motorcycles, bicycles offer no built-in protection for the rider and there is no law in Texas mandating that cyclists wear bicycle helmets when they go for a ride, just ask our Austin brain injury attorneys.
Because of these facts, severe injuries can be life-altering when sustained from a bicycle accident crash that occurs because of the negligence of a motorist.
Injury victims can experience the following injuries in these cases:
Back, neck, and spinal cord injuries
Traumatic brain injuries, skull fractures, and head injuries
Internal bleeding and internal organ injuries
Amputation or loss of a limb
Broken bones
Traumatic injuries
Paralysis
Road rash
Hundreds of bicyclists are killed in accidents annually, while many, many more are hospitalized or require medical attention due to the severity of their injuries. If someone in your family has been killed in a bicycle accident in Austin, contact our Austin wrongful death lawyers.
Who Can Be Held Liable In An Austin Bicycle Accident Lawsuit?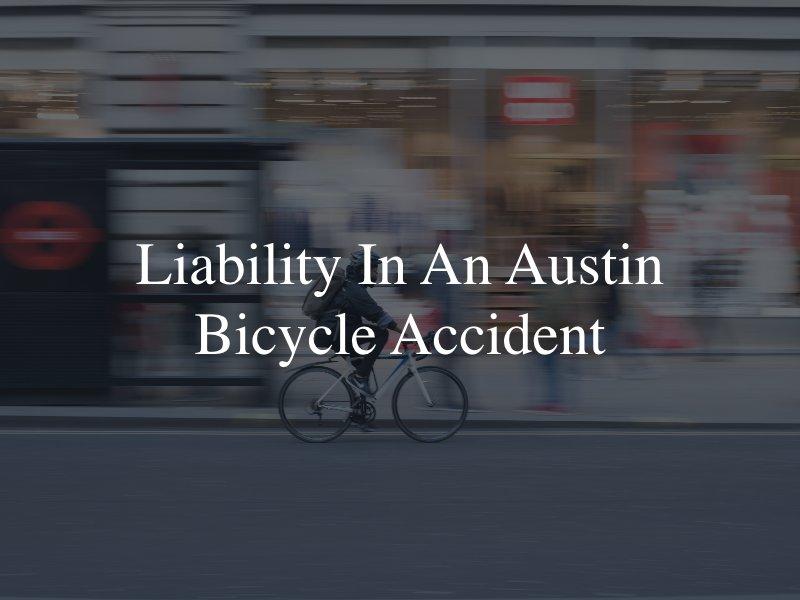 Determining the at-fault party depends on the circumstances of the crash and what led up to it. Most often, the motorist is at fault in the claims our attorneys handle. Less commonly, a bicycle accident may be caused by the manufacturer of defective bicycles or motor vehicles; a crash could be caused by infrastructure. If this is the case, please reach out to our Austin product liability lawyers today.
When you choose the law firm of Shaw Cowart LLP, we will get to work immediately. We establish the facts surrounding the bike collision and determine who is liable for your injuries.
What Should You Do Immediately After A Bicycle Accident In Austin?
You should seek medical care immediately after a crash. If you or the motorist has called the police (which you definitely should if a serious injury is involved), then you must wait for them to arrive, tell them what happened, and wait for them to tell you it's okay to leave.
When the police arrive, they will work with you to establish a police report. They will collect pictures, evidence, and witness testimony from any passersby. Do not talk to anyone at the scene save for the police officers and medical professionals assigned to your case.
If you can, make sure to document as much as possible. Collect pictures, the contact information of the individual who hit you, and the police officer's direct contact information. This process will change significantly if this accident is a hit-and-run and the third party leaves the scene.
If you have any kind of serious injuries, especially life-threatening ones, they will likely dispatch an ambulance to offer aid.
How Soon After A Bicycle Collision Should I Contact An Attorney?
You should contact our law firm as soon as possible after the bike accident. There is a statute of limitations that sets a timeline in which the claim must be filed. Basically, the clock starts ticking on your case as soon as the accident occurs. For that reason alone, you should start the process as soon as possible.
When you call us for a consultation, our skilled attorneys, like our Austin pedestrian accident lawyers will establish the timeline and let you know what your options are.
Understanding the Texas Statute of Limitations for Injury Claims
While some states allow as many as four or five years after an accident to make a personal injury claim, Texas has a 2-year statute of limitations on all personal injury claims including bicycle accident lawsuit. This 2-year time limit begins the day of the accident with only a few exceptions. If you don't realize a symptom is connected to the accident until later, the 2-year clock begins ticking on the date of the discovery. For example, if your back begins bothering you 6 months after the accident and imaging tests reveal a cracked or herniated disc from the accident, you have 2 years from the date of the test results in which to file a claim to recover medical expenses and pain and suffering for the treatment.
If the bicycle accident victim was under the age of 18 at the time of the accident they have until 2 years after their 18th birthday to file a claim.
In most cases, the best time to file a claim is as soon as possible after you've had enough time to grasp the extent of the financial damages for your medical treatment and lost wages plus what you could expect to lose in the future for impending treatments, therapies, and lost work for recovery time. However, it's important not to wait too long. Not only does the 2-year time limit come up faster than you'd think, but the quality of evidence and eyewitness testimony degrades over time.
Proving Negligence in a Bicycle Accident Claim
Texas is a modified comparative fault state, meaning if you're found to be at all at fault in an accident, the amount of compensation for damages you'll receive will be minus the percentage of your fault. For example, if you're found to be 20% at fault because you were not riding as close to the curb as you could have been, a payout of $100,000 becomes $80,000. Sadly, insurance companies often use the state's modified comparative fault system to attempt to lowball a claim by assigning bicycle accident victims a higher percentage of fault in the accident. An experienced accident attorney understands these tactics and knows how to prove negligence on the part of the driver/entity at fault by using documented evidence to show the following points of liability:
That the party at fault owed a duty of care to take reasonable precautions and follow traffic laws to keep others safe on the road, including cyclists

That the at-fault party breached that duty by acting negligently through distraction, intoxication, disregarding traffic laws, or other acts of negligence or recklessness

That the negligent or reckless actions caused the accident

That the accident directly caused the injury

That you've suffered real damages due to the injury
Proving negligence on the part of the person who caused the accident is pertinent when making a claim for personal injury after a bike accident.
Bicycle Accident Facts and Statistics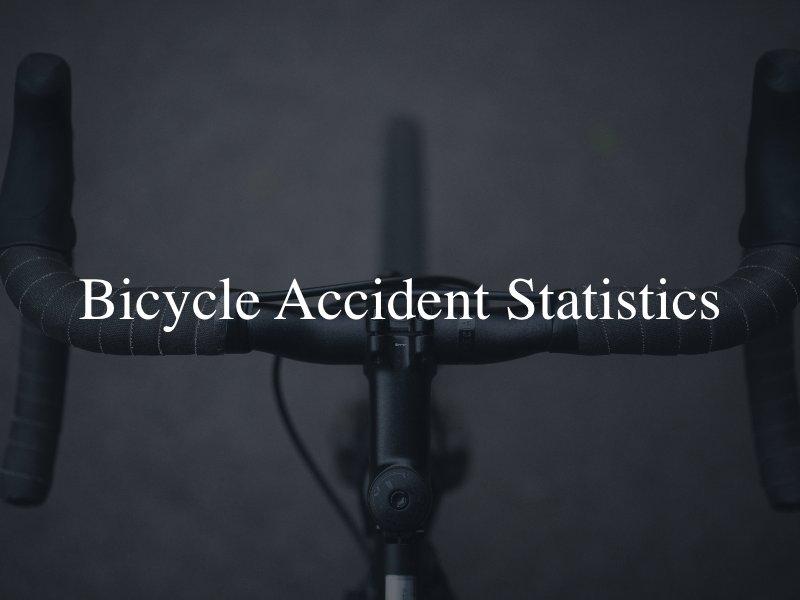 Nationwide, bicycle accidents make up 2% of road fatalities annually, despite only making up 1% of all driven trips in the United States, according to the Centers for Disease Control (CDC). These statistics indicate that while bicycles are a relatively small portion of overall traffic, they are disproportionately involved in accidents.
This statistic also suggests that there may be factors that make bicycling more dangerous than other forms of transportation.
Some possible explanations for this disproportionate statistic include
Lack of infrastructure for bicyclists (such as dedicated bike lanes or protected intersections)
Lack of awareness or education for bicyclists and drivers
Lack of enforcement of traffic laws for bicyclists
According to Share the Road Texas, a cyclist advocacy group, there were:
16,807 crashes involving bicycles in just over six years

Of these crashes, 362 of them resulted in the wrongful death of the cyclist

11% of all cyclist accidents are children younger than 15
Bicycle Laws in Texas That Affect Accident Cases
One of the most important bicycle laws in Texas (551.101) is the general law stating that bike riders have the same rights and duties as motorists. This means cyclists must follow all traffic laws, such as stopping at stop signs and traffic lights, but also that drivers must give bicycles the same respect on the road as they would a motor vehicle. Some other important bike laws in Texas with potential impacts on liability and comparative fault include the following:
Cyclists must ride with the flow of traffic but as close to the curb as safely possible

Cyclists must use hands signals when making turns

Bike riders may only ride two abreast if it doesn't impede traffic

Cyclists riding at night must have a front headlight and a red light or red reflector on the back of the bike
By following all traffic laws while bike riding, you not only protect your own safety but also protect yourself from sharing in the fault in an accident.
What Kinds Of Damages Is My Austin Bicycle Injury Accident Case Eligible For?
While all cases may vary, you could be eligible to receive financial compensation to offset your medical expenses, loss of wages, and pain and suffering in your bicycle injury accident case.
A successful accident claim most often results in an ample settlement from the insurance company of the party at fault, but if negotiations fail to prompt a settlement for full compensation, your accident attorney will advocate for the full amount of your damages in court. Damages could include the following:
Medical expenses such as your medical bills and any future expenses for further treatment, medical equipment, home help during the recovery period, and physical therapy

Lost paychecks from time off of work while you recovered from your injuries

Lowered earning capacity if the accident left you disabled or unable to perform in your previous position

Property damage

Pain and suffering

Any other appropriate non-economic or intangible damages like disfigurement, loss of limb, loss of pleasure in life, or emotional trauma if the accident resulted from egregious wrongdoing such as road rage.
While monetary compensation for damages like pain, suffering, and disfigurement can't undo the harm an injury caused, it may open doors to the best treatments and relieve financial burdens while you focus on moving forward.
Austin Bicycle Accident Client Testimonials
"They worked hard for me on my case. Helped me out in my settlement. Great guys to go with for sure. Thanks for the help."
"PSA if you don't know where to turn to and you're browsing on Google please reach out to these guys and at least get a consultation I promise once you do that you will know immediately that they are the ones for you, I did."
"The whole ordeal could've been very overwhelming if Brandon hadn't held my hand through the entire process. You're in good hands with Shaw Cowart LLP."
Case Results For Austin Bicycle Accidents
Lead counsel in defective production litigation. Brain damage injury resulting from a defective product. A confidential settlement was reached.
Shaw Cowart obtained a judgment for damages in the amount of $100,000 for personal injuries incurred in an accident.
Call Our Austin, TX Office For Your Bicycle Accident Case
If you or a loved one was injured in a bicycle accident in Austin or the surrounding areas of Texas, the attorneys at Shaw Cowart are here to help.
For a free, no-obligation bicycle accident case review, please call us at 512-499-8900. You can also fill out the form on our contact page to book your one-on-one free consultation with Ethan L. Shaw and John P. Cowart.
Get started with us today.
Areas We Serve:
Downtown | South Congress (SoCo) | Zilker | East Austin | Barton Hills | Travis Heights | Clarksville | Hyde Park | Tarrytown | Bouldin Creek | Mueller | Crestview | Allandale | Rosedale | Brentwood | Windsor Park | South Lamar | North Loop | Cherrywood | East Cesar Chavez | Old West Austin | Pemberton Heights | Steiner Ranch | Circle C Ranch | Barton Creek | Avery Ranch | Clarksville | Travis Country.