Are you trying to fight for compensation after you or someone you love has been injured or wrongfully killed at a Texas oil refinery? If your answer to this question is yes, our oil refinery lawyers in Austin want to stress that you don't have to navigate this challenging time alone.
Why Choose Our Austin Oil Refinery Accident Attorneys at Shaw Cowart?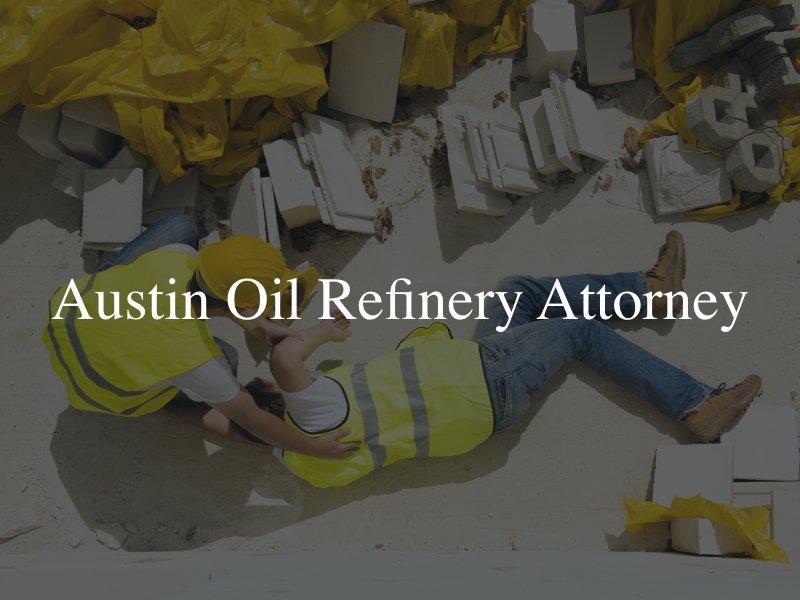 With millions in successful verdicts, the personal injury attorneys in Austin of Shaw Cowart LLP is on your side to help you get maximum compensation in your oil refinery case.
Getting started with your case is simple. Just reach out to our team for your free, no-obligation case review.
Our Austin oil refinery lawyers determine who is at fault while standing up to the big oil and insurance companies. Contact Shaw Cowart LLP at 512-499-8900 or use the form on this page for a free case evaluation.
How Much Does The Energy Industry Fund Texas?
A common legend is that 35% of Texas's economy relies upon oil. It's an inflated figure that never even matched Texas oil production's peak in the 1980s.
By 2018 estimates, oil and gas extraction accounts for only 9% of Texas's GDP and 1.5% of all employment in the state. Of course, that employment percentage is an aggregated average of the 254 counties across Texas.
Regardless of the resulting gross domestic product (GDP) of the industry, many individuals' lives are torn apart due to oil refinery accidents and wrongful deaths.
Texas is home to more oil refineries than any other state in the nation. Though thousands of Texans rely on oil and gas to make a comfortable living and provide for their families, oil refinery accidents are all too common in our state.
While oil refineries are inherently dangerous worksites, employees and contractors are entitled to safe working environments. If you've been injured in an oil refinery accident, you and your family deserve compensation.
What Are Oil Refineries and Why Are They So Dangerous?
Oil refineries are the last stop in oil and natural gas production. While many may envision a pumpjack or oil derrick when they think of an oil refinery, that's hardly the case.
Refineries are the last stop on the oil production pipeline. After the land is surveyed, there will be production (known as upstream), where the resource is extracted. After production transpires, the resource is transported (midstream) to a refinery, where it can be manufactured and refined into goods at a plant (downstream).
Manufacturing any product can be dangerous, but since the refined product is exceptionally combustible and toxic in large quantities, oil refineries are particularly dangerous to employees and independent contractors.
Oilfield Accident Statistics
In spite of OSHA standards, injuries in oil refineries continue to occur in rising numbers ranging from cuts and bruises to life-altering catastrophic injuries and deaths. A safety report released in 2021  highlights some alarming statistics:
The number of deaths rose from 14 in 2020 to 20 in 2021

Fatalities occurred in 15 separate safety incidents

127 safety incidents were company-related while 453 were contractor-related

114 oil refinery injuries occurred due to same-level slip-and-fall accidents

106 injuries were reported as "struck by" injuries

The oilfield refinery industry's fatality rate in 2021 was 0.75, a 36% increase over the previous year
Oil refineries continue to be among the most dangerous workplaces in the country. Since January 2022, the Shell refinery at Deere Park near Houston has reported 4 malfunctions causing fires and high levels of emissions.
Because a significant number of injuries occur under contractor positions, the federal statistics for injuries and fatalities in the oil refinery industry are seriously underestimated by safety standard organizations like OSHA.
Common Causes Of Austin Oilfield Refinery Accidents
Unsafe work conditions and failure to follow safety standards result in high numbers of accidents and injuries at oil refineries in Austin and the surrounding area. The most common accidents include the following dangerous incident types:
Fires and explosions: Oil refineries produce over 100,000 barrels of highly combustible products per day, often requiring high temperatures. Fires and explosions cause severe injuries, including the tragic 2005 deaths of 15 refinery workers and 180 injury victims at BP Texas City.

Equipment malfunctions: Malfunctioning equipment at oil refineries can cause serious injuries such as amputations, burns, and broken bones

Toxic chemical exposures and impure chemical injuries: Oil refinery work requires routine chemical handling. When managers and workers fail to follow safety protocols and guidelines, use impure chemicals, or make mistakes when mixing volatile chemicals, serious injuries from toxic exposures sometimes occur

Unsafe workplaces: An astonishing number of injuries in dangerous refineries occur due to preventable slip-and-fall accidents from loose cords, uneven ground surfaces, and debris and clutter in the workspace
If you or a family member suffered an injury in an oil refinery accident, speak to an Austin oil refinery accident attorney about your options for recovering damages through a workers' compensation claim or personal injury lawsuit.
Personal Injuries at Austin Oil Refineries
The hazardous nature of oil refineries can lead to accidents, injuries and even death. Under OSHA laws, your employer is legally obligated to provide you with safe working conditions so you can perform your job free of danger. However, this is not often the case for oil and gas employees. In the event that a loved one has been killed due to an oil refinery accident, contact our wrongful death attorneys in Austin.
BP, Valero, Exxon Mobil, and other oil and gas companies in our state have experienced one — if not more — explosions and spills that have put Texans' lives at risk. The infamous BP oil refinery explosion in Texas City killed 15 workers and injured more than 180 alone.
Common personal injuries resulting from oil refinery accidents include:
Traumatic brain injuries
Bone fractures, breaks and dislocations
Toxic chemical exposure
Paralysis
Coma
You may be entitled to compensation for medical bills, lost wages, diminished quality of life, and pain and suffering.
If your loved one suffered a head injury in an oil refinery accident, you and your family can sue for compensation. One of our experienced Austin brain injury attorneys can help you determine which path is best.
Damages Available In An Austin Oil Refinery Case
Oil refinery accidents are often serious, or even grave, requiring extensive medical treatment and time away from work during recovery. Even relatively minor injuries can prevent a timely return to work, causing the injury victim to quickly fall behind on their bills and jeopardize their family's wellbeing. Serious injuries may have life-altering long-term effects. A successful claim for damages in an oil refinery accident case can bring compensation for damages including:
Medical expenses

Future medical expenses related to the injury

Lost wages

Future lost wages if you're unable to return to work in your usual capacity or have upcoming surgery, physical therapy, or other procedures related to the injury

Diminished earning capacity if your injury caused disability

Pain and suffering

Other applicable non-economic damages like disfigurement, loss of limb, or diminished quality of life

Wrongful death compensation
The oil industry has powerful defense attorneys who attempt to minimize payouts on valid claims. You need an attorney who isn't daunted by these tactics. At Shaw Cowart LLC, we have strong strategies that win cases for our injured clients in the oil industry.
Statute of Limitations for Injured Energy Industry Workers in Austin
In Texas, many factors affect the statute of limitations in an oil refinery injury or wrongful death case. While these injuries may be covered under worker's compensation, you may also have the right to file a personal injury lawsuit if a third party's negligent actions contributed to your injury.
Private employers are not required to carry workers' compensation coverage in Texas. Injured employees may sue their employer in civil court if an employer does not purchase this coverage. These employees have two years to do so, with the clock ticking from when the injury was received or discovered.
However, employers who do not have workers' compensation coverage through the state may choose privately funded coverage governed by federal law Employee Retirement Income Security Act of 1974 (ERISA). ERISA can also affect the statute of limitations.
If an employer does elect to have workers' compensation coverage, workers must file injury reports within 30 days of the injury's discovery or occurrence.
Furthermore, due to the fact that many employees at refineries are independent contractors, the statute of benefits for injured parties may differ, as well as what financial damages an individual may be eligible to receive.
Our Austin Oil Refinery Lawyers Show Results
Throughout the case history at Shaw Cowart LLP, we have gotten the following financial damages for the victims of oil refinery cases:
Oilfield worker injured in formation collapse. We resolved the case for policy limits of $1,000,000.
Oilfield worker injured on Rig while working on Blow Out Preventer. We resolved this case for $1,500,000.
Oilfield worker injured by drilling tongs on rig floor. We resolved this case for $500,000.
Oilfield worker negligently ejected off of rig floor by crane operator. We resolved this case for $500,000.
While this is not a guarantee of results that individuals can get in their oil refinery injury case, we are confident in our ability to get maximum compensation on behalf of all our clients.
Who Is Liable In Texas Oil Refinery Injury Cases?
Liable parties in oil refinery accidents can include employers, property owners, co-workers and equipment manufacturers. Negligence is most often the cause of oil refinery accidents, but a variety of factors may be at play, including:
Unsafe working conditions
Inadequate training
Falling objects
Gas leaks
Oil spills
Malfunctioning tools and equipment
Poorly maintained equipment
Failure to follow safety procedures
OSHA laws give you the right to report hazards and safety concerns to your employer, as well as any accidents or injuries that occur on the job. Unfortunately, oil companies often put profit before people. Contact Shaw Cowart's workplace injury attorneys in Austin if you've been injured due to negligence.
Oil companies may look the other way so they can meet their production quotas. Following BP's Texas City explosion, the U.S. Chemical Safety and Hazard Investigation Board determined that management failures and a poor organizational culture were partly to blame for the accident. When a profit-driven culture is ingrained across a company, any number of people could be to blame for your suffering.
Call Our Oil Refinery Accident Lawyers in Austin Today
Oil and insurance companies want to act fast and reach a settlement as quickly as possible, but you should not be brushed aside. If you or a loved one has been injured or killed in an oil refinery accident, Shaw Cowart LLP will help protect your rights and ensure a thorough assessment of your damages is performed before an agreement is reached.
You can rest assured that we are always on your side if you have been injured in an oil refinery-related accident.
Contact our personal injury attorneys at 512-499-8900 or use the form on this page to schedule a complimentary consultation. We serve clients in the Austin, Texas area.