Several thousand people are killed in pedestrian accidents each year in the U.S. The National Highway Traffic Safety Administration reports that in 2019, 6,205 pedestrians were killed in traffic accidents. Many thousands more are seriously injured each year.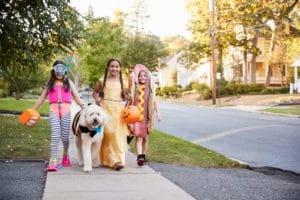 October is National Pedestrian Safety Month, and it's a fitting time to revisit some basic safety pointers. The fall season ushers in fewer daylight hours, which means commuters are driving and pedestrians are walking at dusk or in the dark. The limited daylight can make a car crash more likely because it's more difficult for motorists to see pedestrians, especially if the motorist is being inattentive and careless.
At all times of the year, consider these tips if you are walking, running, jogging, or otherwise traveling on foot:
Wear an article of brightly colored clothing, like a bright red hat or jacket
Don't use headphones while you are near lanes of traffic (it's a good idea to keep your ears open to the sounds of approaching traffic)
Don't text or use your phone while traveling near a roadway, even if you're on the sidewalk
Obey crossing signals at crosswalks
Don't assume motorists will see you in crosswalks – try to make eye contact before walking in front of the vehicle
All of us are pedestrians at some point, whether walking to a restaurant for dinner, walking from our cars into the office for the day, traveling on foot to meet a friend – we all have an interest in making it safer to be a pedestrian. There are of course things you should do as a motorist as well, to prevent pedestrian crashes:
Don't speed, which makes it difficult to see people in time to slow down and stop
Stay alert, don't text or otherwise get distracted from keeping your mind and eyes on the road
Obey traffic signals and stop signs
Always be ready for the presence of pedestrians in crosswalks and on sidewalks
Don't assume pedestrians will yield to you, even if they are jaywalking. Pedestrians sometimes do unexpected things, so you must be aware of your surroundings

When a serious accident occurs, a lawsuit may be filed by the injured victim against the party who caused the incident. In such a claim, the injured party seeks maximum compensation for all of the ways the injury has affected their life and livelihood.
Consult our Experienced Pedestrian Accident Attorneys
If you or a loved one was injured in a pedestrian accident in Austin or the surrounding region of Texas, please call the experienced attorneys at Shaw Cowart, at 512-499-8900. We have been passionately advocating for injury victims for many years, and we will investigate the cause of the accident that injured you and discuss your options for what to do next.