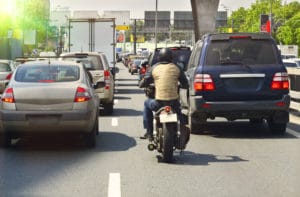 It's hard to say for sure exactly what the Number 1 most-common injury is across all motorcyclists in the U.S. Injuries to the thorax, upper and lower extremities, and head are quite common.
What we do know is that motorcycles don't offer any protection – you probably know this to be true as well, if you are a rider. Having worked with numerous injured motorcyclists over the years, we know bikers to be responsible, aware individuals who end up getting hurt, often through no fault of their own. The idea that motorcyclists are reckless and constantly causing accidents isn't borne out based on the experiences we are familiar with. All it takes is for the driver of a passenger vehicle to ignore a motorcyclist's rights or fail to notice the bike on the road, and a crash can easily result.
Here are some of the injuries our clients have suffered:
Traumatic brain injury
Extreme burns
Extensive scars
Loss of limb, hand, or finger
Extremity injuries that necessitate amputation
Spinal cord and back injuries
It goes without saying that these injuries are severe. The pain alone can be life-altering, not to mention the medical expenses and adjustments you may have to make in order to live with your injury.
The experienced attorneys at Shaw Cowart are passionate about recovering compensation for people who have suffered serious injuries. We have represented numerous motorcycle riders who found themselves catastrophically injured because of the negligence of other motorists. We know just how isolating the situation can be, and we are here to help you through it. Although compensation can never be guaranteed, we hope you'll review our case results and call us to find out how we will build a strategic case on your behalf.
What to Do if You Were Injured in a Motorcycle Accident
If you were injured in a motorcycle accident in Texas caused by someone else's negligence, please contact the experienced attorneys in Austin at Shaw Cowart. In a case review, we will listen to your side of the story and determine what your options are for pursuing maximum injury compensation. For your case review, please call our team at 512-499-8900.